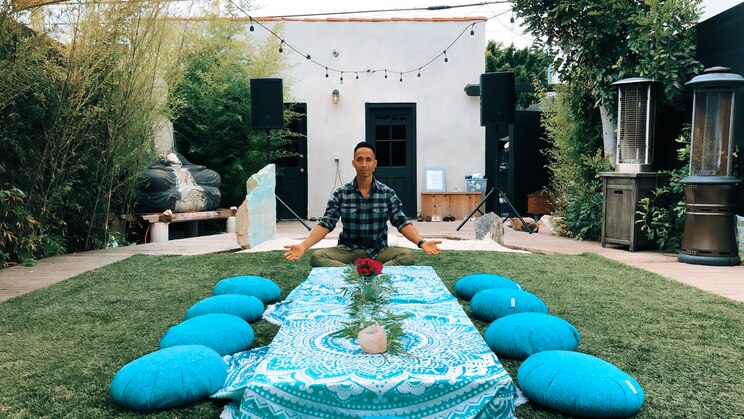 Breathwork Meditation + Healthy Smoothie
Breathwork Meditation + Healthy Smoothie
The session will last 1 hour. We will meet at my place located in Marina del Rey. We will walk to the beach We will proceed to set our intention for our practice. We will proceed to do the breathwork meditation which consists of" While sitting or laying in a comfortable place, the guest will inhale through…
포함사항
Equipment, Transportation, Drinks, Food

Raw Vegan Smoothie made out of fresh-made celery juice, kale, apples (The base) plus bananas, mangoes, papayas, cherries,…

Spring Water will be provided

I will provide transportation when needed. I drive a 2018 Tesla S

I will provide the equipment needed for you to have the best experience.
I'm the founder of Cut Through The BS, Men's Community Group in Venice, Triathlete, and an Airbnb Superhost. I retired at the age of 30 and that is when my self-development journey began. I completed the 10-week Wim Hof Breathwork Meditation program and practice it daily as well as other meditation modalities such as Holotropic breathwork. I completed the 10-day Vipassana meditation training and Priming Meditation. I completed 5 triathlon races and 1 half Ironman. I traveled the world in 2017 and trained in Thailand with other Triathlete professionals. I have experienced many challenges and was able to overcome them with meditation, breathwork, exercise, living foods, and self-acceptance. I believe that what goes around comes around and if I can help you become healthier, the healing will come right back at me. @waltersrawlife
Playa del Rey Beach California Avalon Marina Apartment Avalon Marina Pool Marina del Rey, California
향후 예약 가능 일자
원하시는 시간에 예약 가능한 트립이 없다면, 하실 수 있습니다.
8월 22일 목요일  

오전 9:00~오전 11:00.
1자리 중 1자리 남음
신분증상의 사진과 대조할 수 있는 본인 사진을 찍어야 합니다. 이를 통해 에어비앤비가 트립에 참가하는 게스트를 확인할 수 있습니다. 이 절차는 한 번만 완료하시면 됩니다.
Recommendation: Empty stomach or preferably consumed liquids or very light meals (salads, smoothies) Dress according to the weather. Open Minded Towel
명상
Breathwork Meditation + Healthy Smoothie