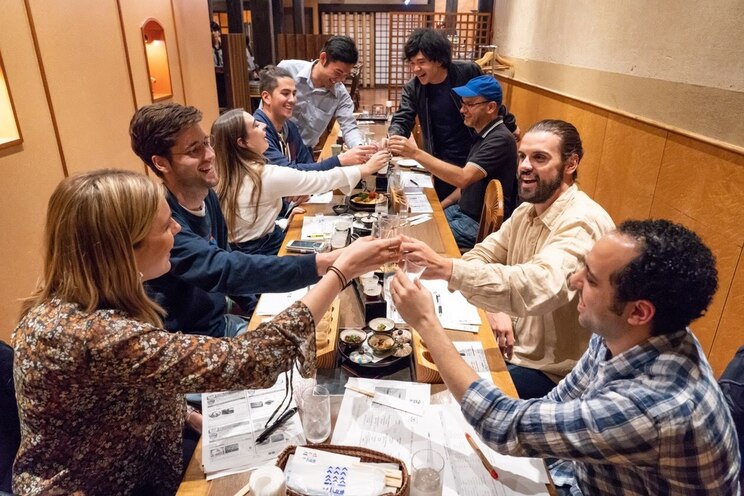 I welcome you to my sake tasting experience in Itami. We'll explore a Sake Museum where has a history and at least two of my favorite breweries in Itami area. I'm passionate about sake, and I'd like to share with you the process of sake making, comparing different kinds and brands. You will taste the differences…

Sake We'll taste more than 12 types of fresh sake and you can taste 4 types of craft beers. You'll find your favorite one.

Sake tasting note Guide to learn about the different grades of sake. Tips of food paring.
Hi, I've done sake sommelier course of Sake Service Institution. I'm excited to help you discover everything I know about sake. I started up Sake Tours (Crew Seigo and Masako ) after studying English in United States. I grew up in in the city of Osaka, and I love to go on adventures. I started this experience because I want to share my knowledge of, and love for, sake. I gained a lot of intel from a friend who works in a sake brewery, and became absolutely passionate. I love this kind of work because I get to meet new people and learn new perspectives every day.
We'll meet in front of the ticket gate of the station, and get to know each other in a relaxed atmosphere. We'll visit at least two sake breweries such as small brewery to big brewery in Itami. The first brewery is small, but they made deeply flavored sake, and they try new types of sake every year.
이 트립은 주류를 포함합니다. 법적 음주 가능 나이에 해당하는 게스트에게만 주류가 제공됩니다.
Please eat something before drinking sake! Transportation fee is not included. We walk around 1.5km, I recommend that you wear comfortable shoes.