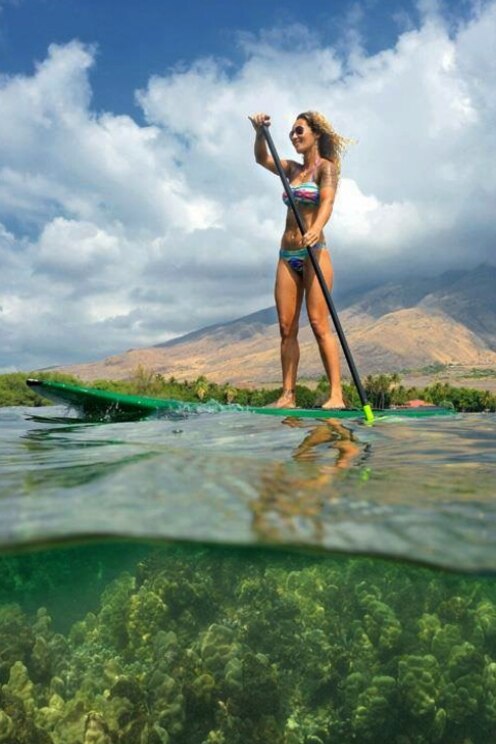 Lele SUP eco-cultural tour
Lele SUP eco-cultural tour
Discover & learn about Lahaina's rich past from ancient Polynesian customs to modern day surfing. Clients will arrive at Maui Surf Clinics where Kristin & Kat will be there to greet them, there will be a safe place for belongings as well as all gear set up for each individual. Kat will walk guests down to the…

We have filtered water and cups or bring a refillable bottle.

Stand up Paddle Boards/ Paddles/ Reef Booties/ Rash-guards (sun shirt)
As the owner of a local surf school for the past 14 years, I have dedicated myself to creating memorable experiences for visitors. I have the most rewarding job I could ever dream of. I also have a like minded crew that is as dedicated as I am about sharing our passions. Kat Achimoff is one of these people, manager of Maui Surf Clinics, she is also a certified professional Maui tour guide. Kat has a wealth of knowledge about the valley Isle as well as the coral reefs and ocean life. Combining our passions we have created an eco-cultural stand-up-paddle tour on the west side of Maui.
The tours take place on SUP boards, the view of the Island is spectacular, the vantage point allows for more of the Island to be viewed and discussed. We have been paddling and surfing these waters for many years... this is our back yard, we know all the "spots" to stop; observe different sea life; hear ancient stories that you don't hear about in the commercial tours-relating to the surrounding area; and we always have fun!
신분증상의 사진과 대조할 수 있는 본인 사진을 찍어야 합니다. 이를 통해 에어비앤비가 트립에 참가하는 게스트를 확인할 수 있습니다. 이 절차는 한 번만 완료하시면 됩니다.
Wednesday & Sunday ONLY. 2 hr tours-arrive 20 min prior. Free parking on street or next door lot. 패들보딩
Lele SUP eco-cultural tour