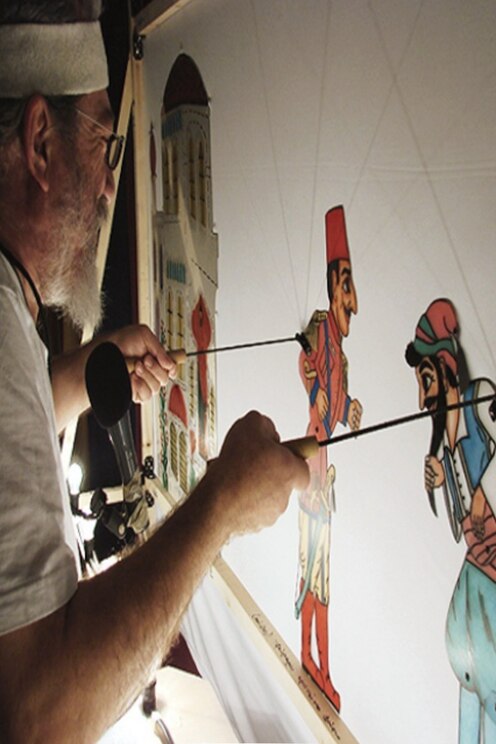 Silhouette puppet show (Θέατρο Σκιών)
Silhouette puppet show (Θέατρο Σκιών)
We will enjoy scenes of shadow theater and puppet theater. Small and large friends will be able to admire a small exhibition area, attend a Puppet Show or Karagiozis, tour behind the stage, see how the figures are made, take part in the workshops and discuss with the creative artists. The shadow theater is one of…

Snacks: mineral bottled water, crackers and fruit.

Tickets in any place we need included.
I am a graduated of the Political Sciences and Public Administration of the Law University of Athens. My love for excursions and trips started from my student years and has so far remained unchanged in time. For 9 years I have been an executive Manager Director in a 5 star hotel and one of my responsibilities was to organize day or multi-day excursions , which I continue to do until today and I wish to continue for many years. Many of my experiences in Greece and abroad have been published on a well-known web site titled: " Taxidia Trellon Sofon" (Ταξίδια ¨Τρελλών¨ Σοφών).
Our activity will evolve into the picturesque quarter of Plaka, in a wonderful hospitable theater, the only permanent scene exclusively for the shadow theater and the puppet theater in Athens. We will watch a show, we will make our own figures and talk to the creators of the theater. Then we will wander in the streets of Plaka for souvenirs and photos.
신분증상의 사진과 대조할 수 있는 본인 사진을 찍어야 합니다. 이를 통해 에어비앤비가 트립에 참가하는 게스트를 확인할 수 있습니다. 이 절차는 한 번만 완료하시면 됩니다.
Minimum 2 άτομα. Free time for shopping and photos. Duration time 5 hours Languages: English, Greek Children under 2 years old are free of charge.
라이브 극장
Silhouette puppet show (Θέατρο Σκιών)
새로운 트립