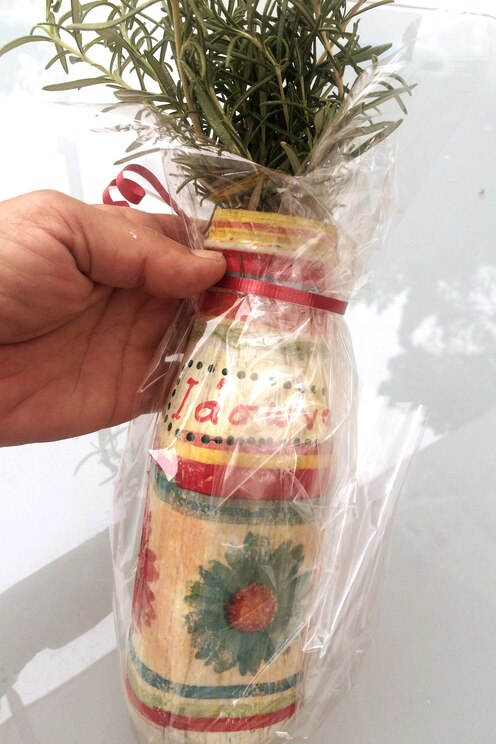 Decoupage for DIY memorabilia & gifts
Decoupage for DIY memorabilia & gifts
Decoupage workshop. Great hands-on experience for all ages and abilities. After introducing ourselves we'll start to let you know about the whole process we are doing in decoupage. You will learn how to convert a simple bottle, other objects, or a piece of furniture into pieces of art. You'll choose the…
포함사항
Equipment, Drinks, Food

Snacks: fruit & crackers

Coffee, Tea, Juice....

Bottles, tools and materials for decoupage.
Hello, I am Deme and decoupage, is my passion for years. As I travel to different parts of the world, I want to take something commemorative from every place. The places I visit, I want displayed for me and for those around me. So, I turned to decoupage, a technique, which I had mastered, to transfer cards or cut outs from calendars to items I could decorate my space. Then I started giving gifts to my friends or my students (I teach Greek as my first language is Greek). Now I create unique gifts for friends and customers. I would love to teach you create your own.
We will work in the living room of my house. So you'll realize that we need only good mood for creation and imagination to create art.
신분증상의 사진과 대조할 수 있는 본인 사진을 찍어야 합니다. 이를 통해 에어비앤비가 트립에 참가하는 게스트를 확인할 수 있습니다. 이 절차는 한 번만 완료하시면 됩니다.
We can create art pieces with decoupage on bottles or jars with Halloween theme. As we wait for our creations to dry out we can enjoy a traditional healthy tea from the island of Crete. 워크숍
Decoupage for DIY memorabilia & gifts
새로운 트립