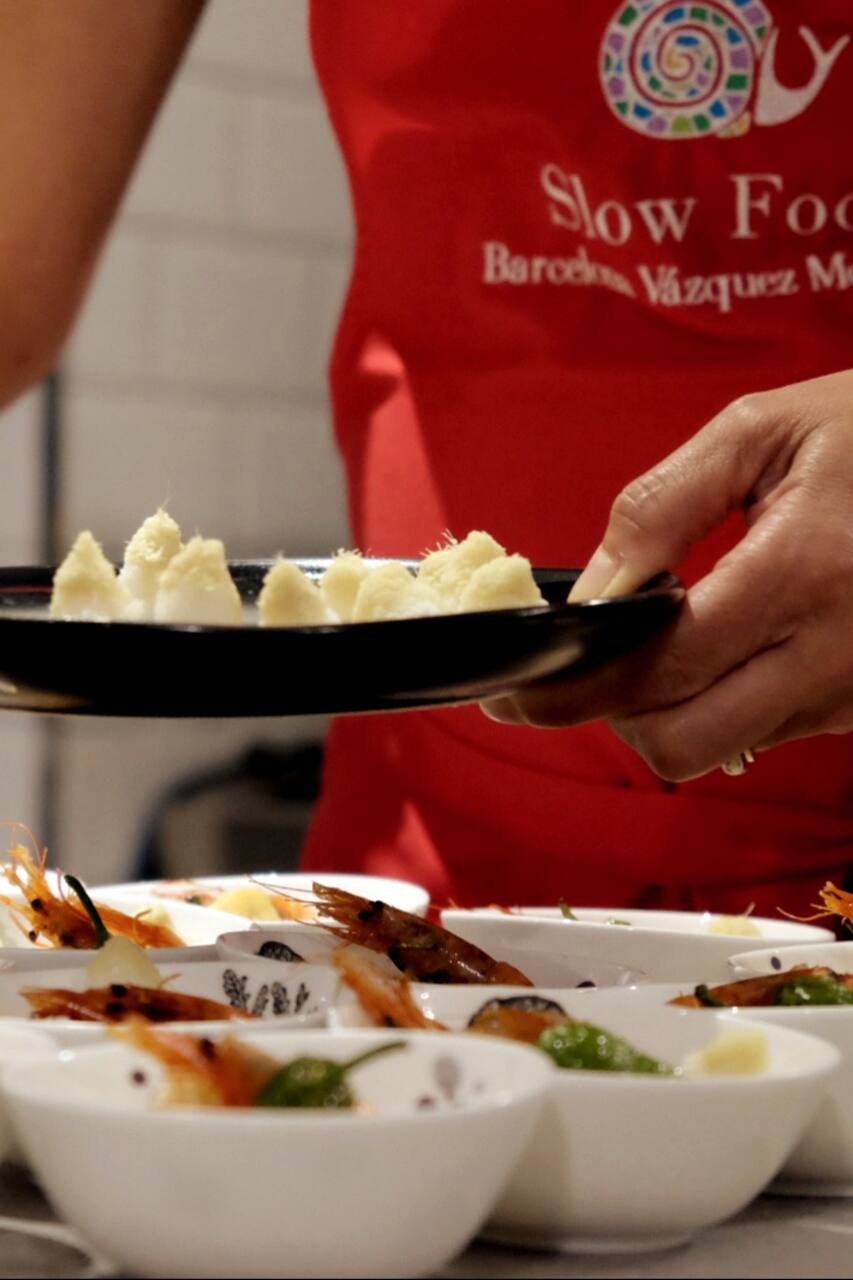 Market Visit + Slow Food Kitchen
Market Visit + Slow Food Kitchen
I'm one of the founders of Slow Food Barcelona and i've been working with sustainable food and in the organization of food events for more than 20 years. I'm also running a vegetarian restaurant in Barcelona.
Slow Food Barcelona has been working for more than 12 years organizing events about sustainable food. We organize cooking classes and taste workshops with Slow Food chefs, farmers, cheesemongers, winemakers etc. We also organize the only permanent farmer market in the city and, finally, we publish the "Barcelona Slow Food Guide" that includes the best and more sustainable restaurants in the city
참가비가 전액 Slow Food Barcelona에 기부되는
착한 트립
입니다. .
Learn how to cook three seasonal dishes that are inspired by traditional cuisines from various cultures of the Mediterranean region. Takeaways: • learn the nuances of the food cultures around the Mediterranean • understand how to cook with vegetables and fish that are in season • a hands-on culinary experience • the joy of gathering around the table and sharing a meal
Very Important: We DO NOT REFUND if guests are not attending the class.
We'll meet at out Slow Food Kitchen, in the heart of the Born area. Then we'll visit the beatiful Santa Caterina Market, built by the famous catalan architect Enric Miralles. After the visit we'll come back to the Kitchen and we start cooking all together, preparing several dishes at the same time. Finally we'll eat the delicious food we have prepared!
신분증상의 사진과 대조할 수 있는 본인 사진을 찍어야 합니다. 이를 통해 에어비앤비가 트립에 참가하는 게스트를 확인할 수 있습니다. 이 절차는 한 번만 완료하시면 됩니다.
이 트립은 주류를 포함합니다. 법적 음주 가능 나이에 해당하는 게스트에게만 주류가 제공됩니다.
Very Important: We DO NOT REFUND if guests are not attending the class.
사회 공헌
Market Visit + Slow Food Kitchen
새로운 트립