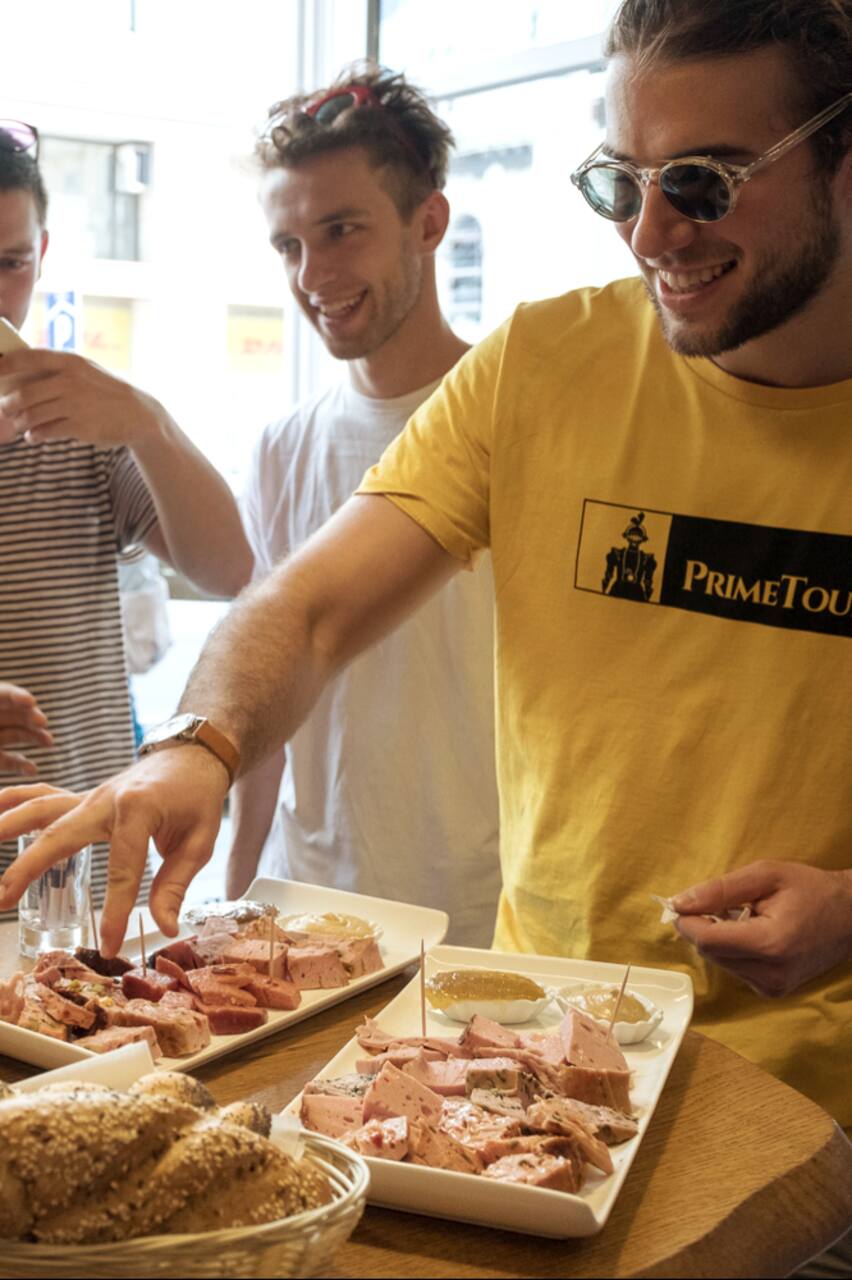 We are Tobias and Florian, two real Viennese, who love their city and who want to show you interesting and local neighbourhoods. During this experience we will show you hidden gems of Rudolfsheim Fünfhaus, with its cultural and culinary delights. Vienna, has so much to offer, when talking about culinary, its not without reason that there is the Viennese Cuisine, the only city in the world with…
The meeting point of our tour will be in a more vibrant part of the city - at the 'Westbahnhof' - situated the end of the Mariahilferstraße, one of busiest shopping streets in the city. From there, we will head to our first stop, where you will be able to enjoy a tipical snack, for which the city is famous for. In continuation, the tour will go on around local neighbourhoods, which stand our for…
VERY IMPORTANT: IF THE WEATHER IS GOOD WE DO THE TOURS WITH OUR FUNKY KICKBIKES WITH ANOTHER MEETING POINT! WE ADVISE YOU OF COURSE IF THATS THE CASE! BE PUNCTUAL - YOU CAN'T JOIN THE TOUR INBETWEEN
음식
Tipical Viennese Snack includes meat and gluten
음료
Wine/ Beer Tasting Alternative Drink: Tap Water (best in the world, comes straight from the alps) or soft drinks
티켓
local Gallery Visits contemporary, vibrant and sexy.
We are visiting contemporary galleries exhibiting current Viennese art styles. These galleries are based in local neighbourhoods, which are not easy to find. We combine these visits with background information and funny facts about the area and its inhabitants.
이 트립은 주류를 포함합니다. 법적 음주 가능 나이에 해당하는 게스트에게만 주류가 제공됩니다.
VERY IMPORTANT: IF THE WEATHER IS GOOD WE DO THE TOURS WITH OUR FUNKY KICKBIKES WITH ANOTHER MEETING POINT! WE ADVISE YOU OF COURSE IF THATS THE CASE! BE PUNCTUAL - YOU CAN'T JOIN THE TOUR INBETWEEN