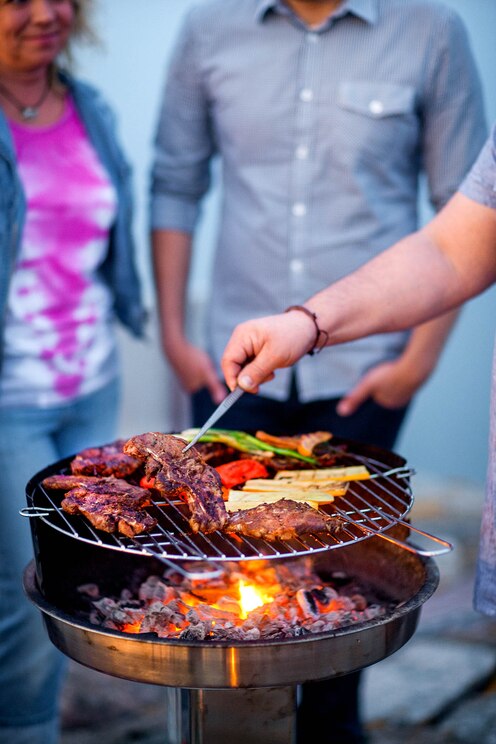 Pick-up at the local market and guided tour while we purchase some of the ingredients. Visit to the butchers fridge where we choose our meat with the professional help of the butcher. He will explain to what you have to pay attention when buying meat. Visit of the organic garden, and how we manage it using the…

Barbecue Slow smoked and grilled meat in the traditional way (Machoui) with an international twist
I am Erlend, professional chef for over 20 years. for me, cooking is about eating but also about enjoying, escaping the stress of daily life, creating and having a good time. As a deciple of the 33 master chefs of Belgium I continued my career in multiple disciplines of the gastronomical world to settle down in Morocco and to refine my most favorite,... slow roasted and smoked meat on wood fire. With me the word Barbecue will get a whole different meaning since I only cook whole pieces of meat (like leg or shoulder) or even the whole animal at once. Slowly smoked with herbal incenses.
We will cook in the outdoor kitchen of our ecological guesthouse. During the 10 years I live here I got to know the best suppliers for my ingredients. With me you can step into the butchers refrigerator and pick or cut the piece of meat YOU want. Ask questions and listen to the advice of a pro. No supermarkets or big surface shops. We only work with locals who are passionate about their job and provide me with the best quality only.
신분증상의 사진과 대조할 수 있는 본인 사진을 찍어야 합니다. 이를 통해 에어비앤비가 트립에 참가하는 게스트를 확인할 수 있습니다. 이 절차는 한 번만 완료하시면 됩니다.
We are most concerned about allergies or intolerances, so please let us know so we can adapt ourselves.