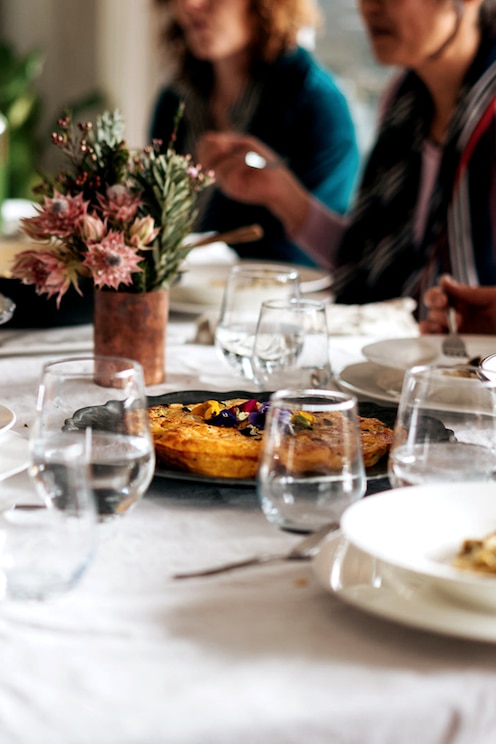 Cook, eat and enjoy the Italian way!
Cook, eat and enjoy the Italian way!
Since your arrival, you'll be immersed in a total food experience with hands-on and food testing. You may be a complete beginner or need to know more about Italian cooking it doesn't matter, you'll all have the opportunity to cook and you'll all go home with some new tips and good learning! Moreover, you will live…

Non alcoholic drinks Still and sparkling water, fruit cocktails, coffee and tea

cooking equipment, aprons
I belong to one of those Italian families who has always considered good food to be a priority in life. 10 years ago I left my career in Mktg and Communication to attend a professional cooking school in Florence and work in a restaurant until my first son was born. Since then I developed my own way of cooking which is the results of both long-standing traditions and my imagination. I always try to use the best ingredients in season and I make everything from scratch. It's such an honour to share some of my country's flavours to people coming from all over the world!
We will conduct our workshop in my kitchen with no professional tools so that you'll be able to duplicate it wherever you want. If the weather is fine we will enjoy our food in our nice courtyard which is 2 spets out of the​ kicthen​.
신분증상의 사진과 대조할 수 있는 본인 사진을 찍어야 합니다. 이를 통해 에어비앤비가 트립에 참가하는 게스트를 확인할 수 있습니다. 이 절차는 한 번만 완료하시면 됩니다.
Please let me know before booking if you have any severe allegies. As the matter of the fact we will be holding the workshop in my kitchen with other ​people who might not be familiar with them.
쿠킹 클래스
Cook, eat and enjoy the Italian way!
새로운 트립