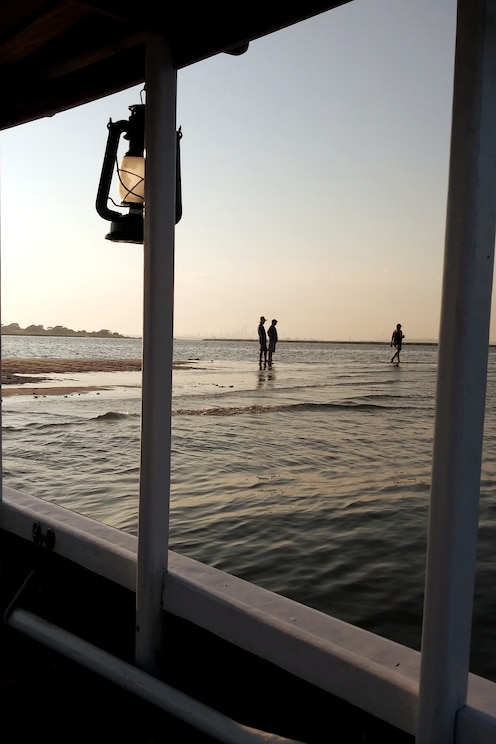 조수가 들어오는 아름다운 모래톱에서 즐기는 소풍
조수가 들어오는 아름다운 모래톱에서 즐기는 소풍
For this amazing excursion we'll leave the dock a little over an hour before low tide - we'll hop in the skiff "Turtle," a charming traditionally built Chesapeake skiff, and take a relaxing ride to a secret beach that only is exposed during this time. With a distant view of Manhattan hovering over the uninhabited…

fruit, cheese, crackers

seltzer, water, soda, ice Cooler and Ice for your adult beverages should you choose to bring them
Hello! Jarad here! I am a licensed US Coast Guard Captain. I have sailed over 30,000 nautical miles between NYC and and the Caribbean, and want to share that experience with you! The sheltered waters of Jamaica Bay house the country's only Wildlife Refuge that exists within a major city - a very special place where a unique peace and serenity can be found. In addition to 30 years experience on the water, I have conducted several scientific projects within the bay giving me a unique perspective on flora and fauna within it's borders. I look forward to having you aboard!!
This sand bar, part of what is charted as "the Raunt," is only accessible by small boat - and skilled navigator, as well as only "above the water" for a few hours each day...knowledge of time and tide are the only way to access this amazing secret spot!
If we're lucky, you'll need LOTS of sunscreen - there is NO shade on the beach, only in the boat, so same procedure for being at the beach!
보트 타기 체험
조수가 들어오는 아름다운 모래톱에서 즐기는 소풍
새로운 트립