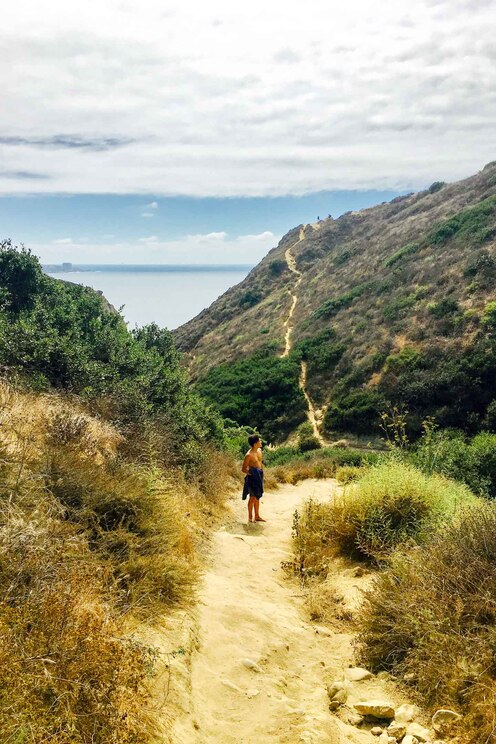 Breathtaking canyon hike in La Jolla
Breathtaking canyon hike in La Jolla
Our first stop in this day excursion in La Jolla begins at the Ho Chi Minh Trailhead. A scenic drive through one of La Jolla's wealthiest neighborhoods helps build excitement and anticipation. This hidden gem of a hike has you descending down a sandstone canyon to Black's Beach - one of the preferred, less…

Granola bars and water.
After graduating from UC Riverside and moving to La Jolla a year ago, I fell in love with the city and began exploring its many hidden gems on my days off. After hiking several trails in the area, Ho Chi Minh Trail is by far the most breathtaking and interactive hike in the area. Aside from working at an educational software company, I give snorkel and kayak tours at the La Jolla Cove and know all about the four different microhabitats in the La Jolla Ecological Reserve. I grew up loving to explore, building genuine friendships and sharing my diverse and adventurous experiences with others.
Visitors unfamiliar with the area are typically hesitant on the tricky terrain when unaccompanied because of the unusual interactive layout and terrain. There are several more unique paths back to the original starting point including the Torrey Pines Gliderport which also has a delicious sandwich shop, the perfect compliment to watching the gliders with the ocean as the backdrop.
신분증상의 사진과 대조할 수 있는 본인 사진을 찍어야 합니다. 이를 통해 에어비앤비가 트립에 참가하는 게스트를 확인할 수 있습니다. 이 절차는 한 번만 완료하시면 됩니다.
이 트립은 주류를 포함합니다. 법적 음주 가능 나이에 해당하는 게스트에게만 주류가 제공됩니다.
Guests must their own transportation to the trailhead. Remember to bring water and a prepare for an adventure with views you will never forget.
등산
Breathtaking canyon hike in La Jolla
새로운 트립