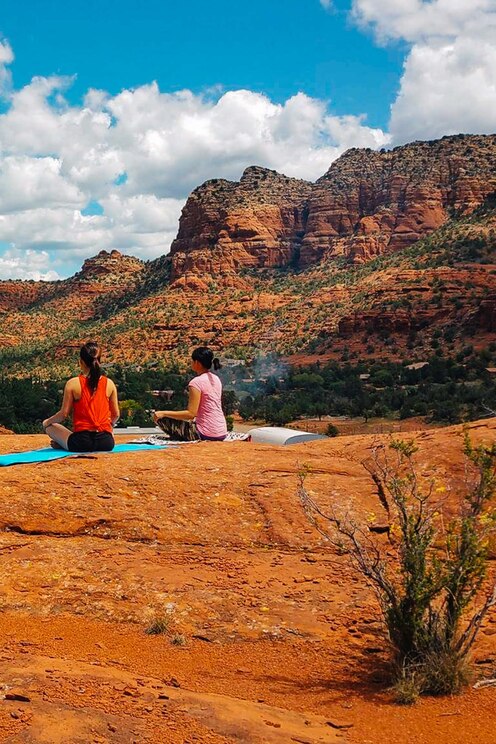 Embark on a Spiritual Quest doing Yoga
Embark on a Spiritual Quest doing Yoga
There is so much to discover about ourselves when we dive deep. In this practice, we will begin with a brief introduction to mantra meditation and maintain our focus as we hike to our destination. I will guide you through a mixed levels yoga flow, with heart opening stretches, core exercises and deep conscious…

Water

Yoga mat
It was 14 years ago when I was introduced to yoga and it has become my companion on all levels. I began teaching Hatha Yoga to overcome my shyness and to connect and inspire others to overcome challenges in their lives. It wasn't until I was introduces to yoga sound meditation and healing that I was able to dive deep into discovering who I really am and my true purpose in this world. I am passionate about sharing this wonderful practice with others from all walks of life, because it is about bringing us together and on a deeper level that we can't find anywhere else.
Sunset Dr is the ideal place for sunset, wide open space and stunning views. We will meet at the parking lot at Sunset Park and take a 10 min meditation walk to the top of Sunset Dr. where we will begin our practice.
신분증상의 사진과 대조할 수 있는 본인 사진을 찍어야 합니다. 이를 통해 에어비앤비가 트립에 참가하는 게스트를 확인할 수 있습니다. 이 절차는 한 번만 완료하시면 됩니다.
Wear clothing that you can move easily in and protects you from sun exposure. We will be doing a short hike to each destination so wear shoes appropriate for hiking.
요가 수업
Embark on a Spiritual Quest doing Yoga