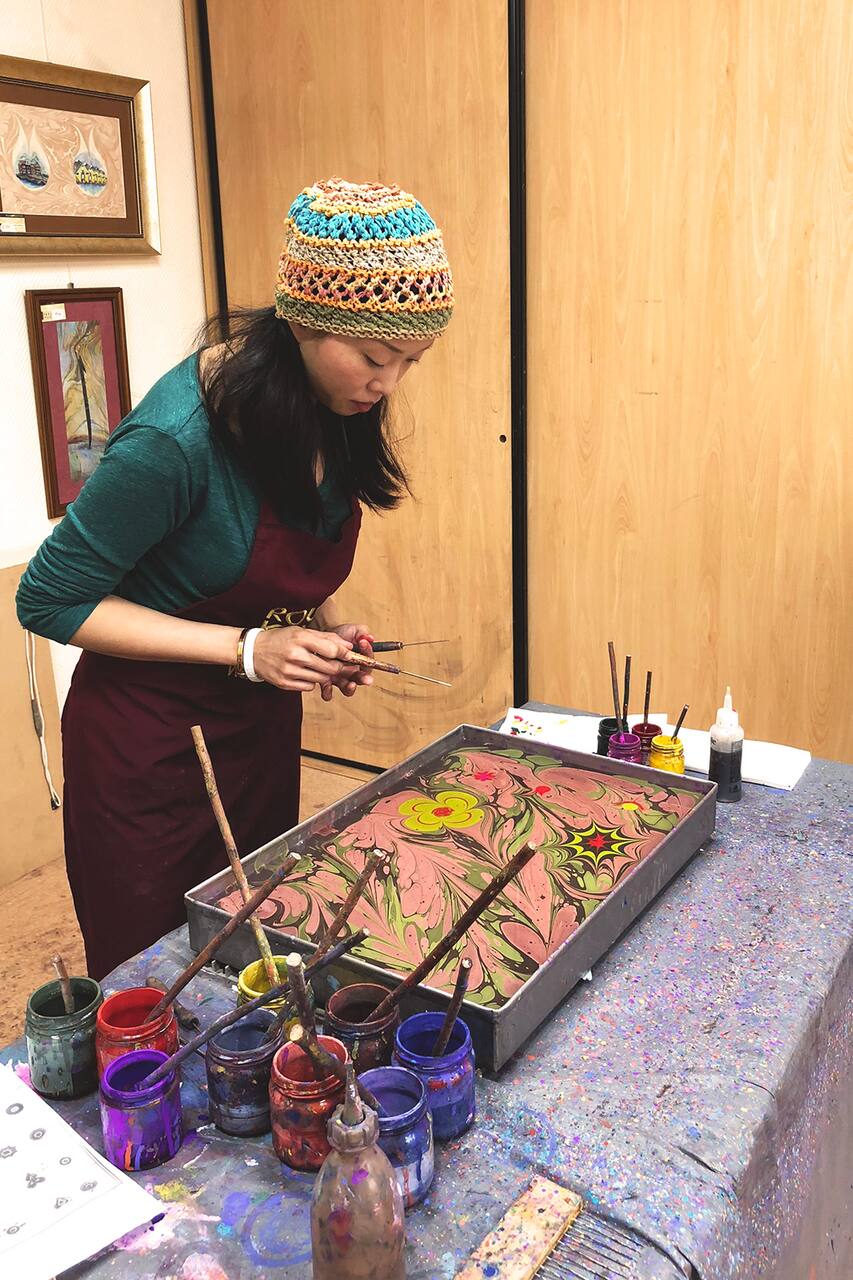 This beautiful art form is included in the UNESCO Cultural Heritage List. Feel free to reach us for additional time-slots. I founded the Roumi Art Center (Roumi Kunst Instituut) in Rotterdam, where my daughter Nur and I promote and teach traditional art forms for over 10 years. We have participated in numerous prestigious exhibitions around the world to promote these spiritual art forms. Our…
We will start by introducing ourselves and a quick tour of our gallery. After some theoretical and historical information about Paper Marbling (Ebru Art), we will get acquainted with the materials, followed by couple of demonstrations. At this point you will start experimenting with this fascinating art form by yourself with my guidance as needed. You do not need to have any prior knowledge of…
The experience takes 2 hours and running over the time slightly is no issue. We will be providing protective clothes to avoid paints getting on your clothes. Feel free to reach us for any questions :)
간식
Variety of snacks Selection of cookies, desserts and chocolates will be available
음료
Coffee, Tea, Water Free and unlimited coffee, tea and water will be provided
장비
Art supplies Any art supply to be used will be provided.
We will be having the experience at our gallery which offers a relaxing atmosphere. Our gallery was founded more than 10 years ago and attracts all kind of visitors from different countries. It is a multi-cultural environment and helps connect different cultures through art.
향후 예약 가능 일자
원하시는 시간에 예약 가능한 트립이 없다면, 하실 수 있습니다.
8월 27일 화요일  

오후 1:00~오후 3:00.
10자리 중 10자리 남음
The experience takes 2 hours and running over the time slightly is no issue. We will be providing protective clothes to avoid paints getting on your clothes. Feel free to reach us for any questions :)