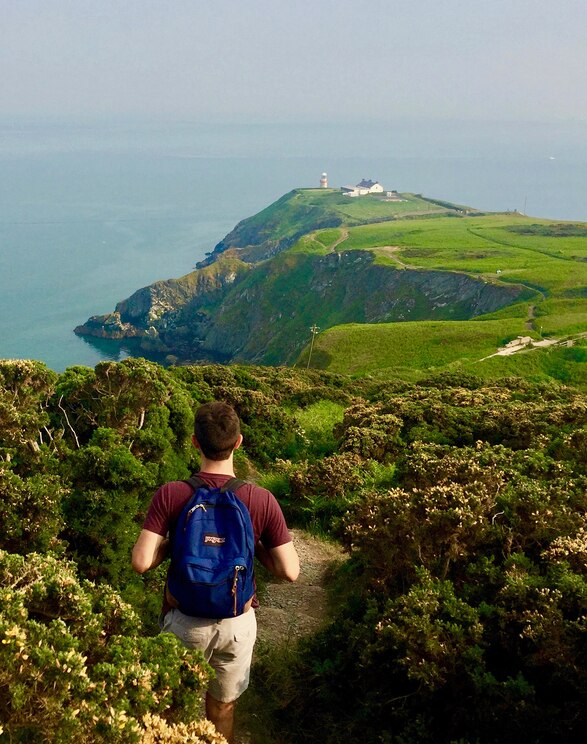 Rendezvous at 11 am in Howth village for elevenses as my guest. Karl will bag us a little picnic with a light sandwich and salad to savour en-route. Meet Bruno, my canine accomplice. Hike through nature, time and many different habitats. Explore 7 miles/12 kms or more of rough trails and hills. Taste the salty…
690명이 넘는 게스트가 이 트립에 별점 5점을 주었습니다.

Picnic Lunch. Tea, Coffee & Scones prepared fresh while we meet for " elevenses" and respectful of most dietary preferences…
Of an ancient Irish clan, I am third generation Howth, a humble adventurer. Sharing the alchemy of Howth's hospitality, nature and history is my vocation. Stoking the natural high that has drawn people here for 10,000 years inspires me since my childhood. As a founder member of Howth Coastguard, ( Cliff Rescue Unit) you are in safe hands. Bruno, my doggie and I know every inch of Howth and almost every body. I am a licensed skipper in European waters and was a member of the UN Rapid Reaction Corps. I climbed Kilimanjaro with the Irish Army and ski off piste in the Tirol every year. We will see you right blending and exposing the history and habitats of this Unesco Biosphere with the weather and tides on the day.
Howth, a magical and ancient peninsula on the Dublin Bay Biosphere affords a multitude of natural habitats and exquisite panoramas. From an ancient tomb in Siamese jungle to HG Wells most beautiful view in the world, nature and history combine for journeys through time, nature and maritime wildlife. Walk in the footsteps of 10,000 years of people from the Tuatha Dé Danaan , through the Celts, Christians, Vikings, and Normans to modern Ireland.
향후 예약 가능 일자
원하시는 시간에 예약 가능한 트립이 없다면, 하실 수 있습니다.
8월 26일 월요일  

오전 11:00~오후 5:00.
12자리 중 7자리 남음
690명이 넘는 게스트가 이 트립에 별점 5점을 주었습니다.
Use the Dart (rail) or 31 bus to get to Howth in 35 minutes from the city centre. Cost about €3 each way. A taxi costs about €25 each way.