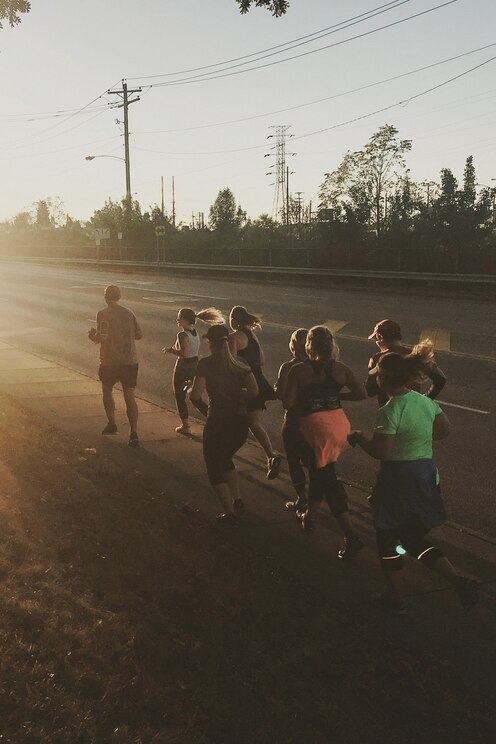 First - we'll meet in a designated location (with parking accommodations) and spend a few minutes warming up, hydrating, and discussing the route. Next - were off! Designed with conversation in mind, we'll maintain a comfortable yet competative pace as we tour quirky details like the best street art or a shady…
포함사항
Equipment, Drinks, Food

Recovery Snack. Pre run snack I know where we can find the best french fries and donuts! I'll delight you with something…

Pre run hydration I'll make sure we're fully hydrated for this excursion.

A commemorative pin! A memory of our custom route, I'll leave you with a badge of honor and proof that you run this town.
Welcome to Cincinnati; a hilly town with views to spare. If you're training for a race, maintaining a fitness plan, or just want a unique look at this river town, I've designed several routes of varying lengths to introduce you to the natural beauty of the Queen City as well as the public art, and beautiful architecture. We'll begin and end each run with hydration and nutrition...tailored to your specific needs as well as showcasing Cincinnati's other excellent amenities- food and drink! I'll leave you with detailed route maps filled with fun facts so you'll be prepared for your next visit!
Starting from one of the most vibrant public squares in the city, we'll be at the hub of several different types of runs! Climb hills to our renowned Art Museum and gorgeous Eden Park, or take it to the river for a flat, winding bike path through impressive parks, and over iconic bridges. Perhaps you'd like include a tour of Cincinnati's public murals, the history of local beer or just an easy 5k. I'll design the perfect route for you.
신분증상의 사진과 대조할 수 있는 본인 사진을 찍어야 합니다. 이를 통해 에어비앤비가 트립에 참가하는 게스트를 확인할 수 있습니다. 이 절차는 한 번만 완료하시면 됩니다.
My custom routes are between 3-6 miles. Guests should be comfortable running at a moderate pace. Scheduled runs will take place rain or shine. Runs will NOT take place if there is lightning.