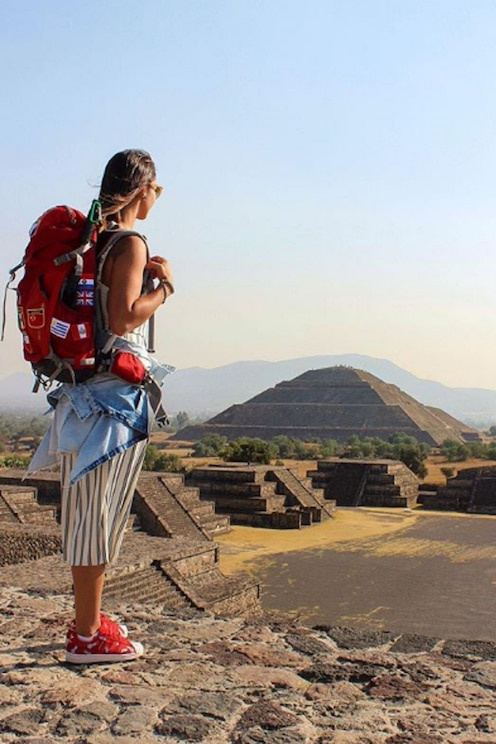 In this experience you will learn about the history, traditions and customs of Teotihuacan. Our experience starts early (7am), our driver and friend will pick you up at your accommodation or at a meeting point if there are several people attending the tour. (maximum 10 people). The estimated transportation time…
포함사항
Transportation, Drinks, Tickets, Food

fruit, juice, coffee, chocolate, sweet bread etc. (ask for our menu)


Tickets (Archaeological site and museum)

PRIVATE TRANSPORTATION (from your accommodation in Mexico City)
If you are visiting Mexico and want to know more about its pre-hispanic past, then you must visit Teotihuacan. Teotihuacan is an example of the greatness that Mesoamerican cultures had as well as their complex architectural advance. My name is Rubén and I am a native of Teotihuacan "The city of the gods". I have a degree in pedagogy and a tourist guide certificate, I love meeting people and showing them the culture, gastronomy and customs of my town. My love for teaching has turned this activity as a tourist guide into one of my passions. I consider myself a respectful, intelligent and friendly person. I wish that tourists visiting Mexico have a good experience in my town. So if you want to visit this majestic place but you do not know where you start the tour...dont worry, I can help you!
The most representative places of the archaeological complex: -The avenue of the dead. -The Citadel - Temple of the feathered serpent ( Quetzalcoatl) -Temple of Quetzalpapalotl - Pyramid of the Sun -Pyramid of the Moon - Plaza of the Moon *Tetihuacan paintings *Museum of the Teotihuacan Culture *We will visit some external archeological complexes that few tourists are fortunate to know. * Craft stores * Mezcal and pulque tasting
예약 가능 여부
원하시는 시간에 예약 가능한 트립이 없다면, 하실 수 있습니다.
8월 25일 일요일  

오전 7:00~오후 1:00.
10자리 중 10자리 남음
-You should wear comfortable clothes and shoes. -Sunscreen or a hat is necessary. -Bring extra money (preferably national currency). -Ask for the pick-up option at your accommodation. -This activity is not suitable for people in wheelchairs.