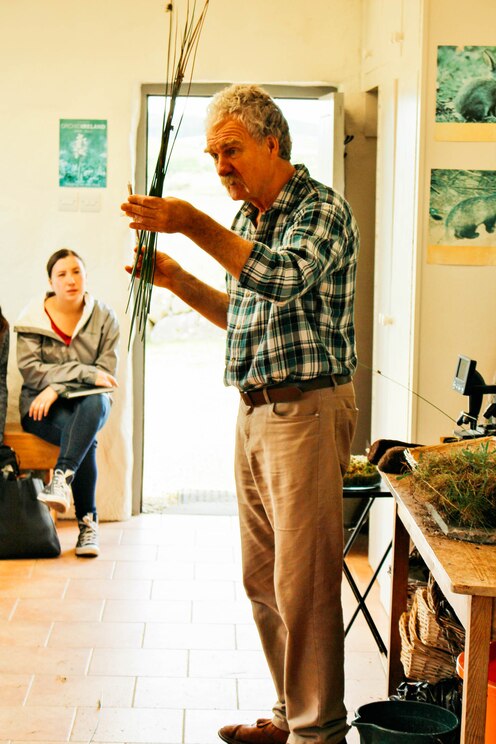 Sense the magic as you enter the restored little Conamara* hill-village of Cnoc Suain, where a warm welcome awaits you. Take a short relaxing walk along a gravel path, past dry-stone walls and through stunning landscape, to explore nature's intriguing bogland curiosities. Hear mysterious tales of bog culture &…

Mocktail recipe

Rushwork memento I will give you information on local places to visit in Conamara. Discover places off the beaten track on…
Proud winner of the 2017/2018 Irish Cultural Experience Award A deep love of Conamara's rich culture & nature, combined with a spirit of adventure and innovation, and a lifelong passion for sustainability, inspired husband & wife, Charlie and Dearbhaill, to found Cnoc Suain – an international award-winning cultural retreat – over 20 years ago. Here Charlie, a natural scientist with 40 years teaching experience, invites you to share in real Irish experiences, with an introduction to the natural wonders of the Conamara bogland – 'hands-on' experiences that are memorable, informative & fun!
We'll meet in the Conamara hill-village of Cnoc Suain, described by The Guardian as "a place quiet unlike any other" and by Travel + Leisure as "a beautifully restored hill village that sits on layers of Irish history, Cnoc Suain offers a thorough immersion in local culture. It is serving as a trailblazer and a powerhouse in promoting sustainability and mindfulness of the earth's – and mankind's – precious resources." Car Parking at Cnoc Suain
신분증상의 사진과 대조할 수 있는 본인 사진을 찍어야 합니다. 이를 통해 에어비앤비가 트립에 참가하는 게스트를 확인할 수 있습니다. 이 절차는 한 번만 완료하시면 됩니다.
Practical clothing & sturdy footwear advisable. Please arrive 5 minutes before starting time. You must provide your own transport. Taxis: Galway city to Cnoc Suain costs €35 approx