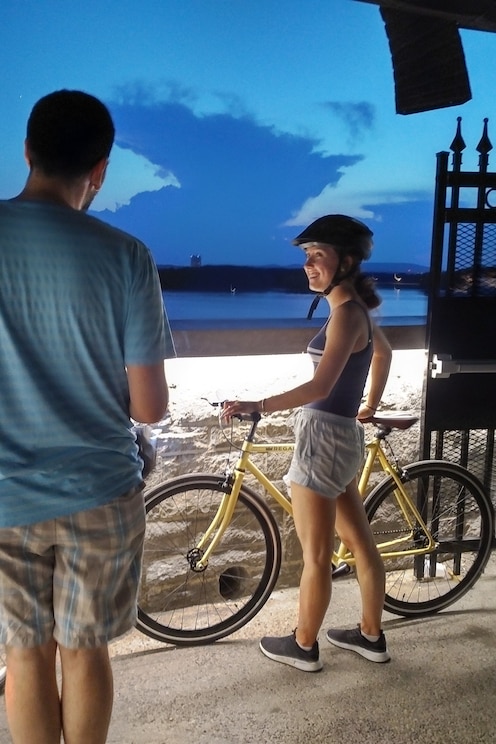 Bring Your Own Bike and Beverage
Bring Your Own Bike and Beverage
Bring your own bike, and your own beverage (or try our homemade cocktail), and let's get to know bot one another and Ottawa a little better. We'll start off in Wes' backyard garden, and then choose one of a couple of routes towards city centre, depending where beautiful stuff seems to be happening. Chances are…

mixed drink en route! Maple Mojito

Sweet Road Bike Including helmet and lights
We are creative types, local food enthusiasts, teachers, performers, and individuals who are overall well-connected to various networks in Ottawa and Gatineau. We love art, plants, and . . . oh ya, bikes! Your guide will be Wes, Tricia, or Louis, who will take you from a local garden in Little Italy, though various neighbourhoods, parks, paths, and streets to places you have seen and places you will be glad to discover. They will feed you local trivia for your mind, maple Mojitos for your spirit, snacks for your tastebuds, a soundtrack for ears/soul, and likely a joke or two for your heart!
Little Italy, Dow's Lake, Lansdowne, The Glebe, Centretown, Chinatown...oh, and of course the breathtaking Ottawa River escarpment.
이 트립은 주류를 포함합니다. 법적 음주 가능 나이에 해당하는 게스트에게만 주류가 제공됩니다.
You should be able to ride a simple street bike. Different sizes are available, and we will customize it for you. It would be appreciated if you message us with your height/weight beforehand.
자전거 타기 체험
Bring Your Own Bike and Beverage