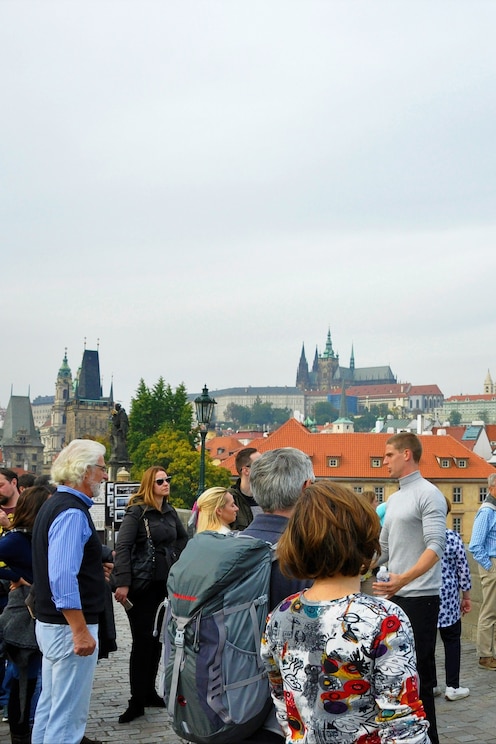 (IMPORTANT INFO: 100% of our tour fee is donated to charity. The guide works only for whatever tips you feel we deserve. This way we do not take any money from the charity fee, and if you are not fully satisfied, you do not pay any more.) Over the course of a fun-filled, 3-hour walking tour, we will explore the…
실시간 인기 트립 예약이 마감되기 전에 서두르세요!

From March-August 2019, each group will receive a free souvenir gift from the charity as a thank you for their contribution.
Born to a charity family, I was raised in Europe and lived 20 years in the Czech Republic. I was involved in charity since I can remember. As a young man, I began a theater acting career in Prague and my love of performance, comedy, and history soon led me to take up guiding. My interactive, comic style was an instant hit and I gained a reputation as one of the highest-rated guides in Prague. I soon decided to use my skills as a guide to benefit a worthy, local, children's charity. Join "Tour 4 Charity" to see the best highlights of Prague in an unforgettable way, while doing something great.
Chance 4 Children has worked since 1996 to improve the living conditions, medical care, and future prospects of the neediest children in the Czech Republic. Through clown therapy in hospitals, specialized education for orphans, and mass-distribution of food, clothes, toys, and other supplies to orphan homes, C4C has made a truly tangible impact and doubled the success rates of orphans in society.
참가비 전액이 Chance 4 Children에 기부되는 착한 트립입니다.
You will hear the best stories from 2,000 years and visit the most unforgettable sights of Prague: THE NEW TOWN: Republic Square Municipal House Powder Tower Wenceslaus Square National Museum THE OLD TOWN: Estates Theater Karolinum Old Town Square Astronomical Clock Churches of Tyn and St. Nicholas THE JEWISH QUARTER Franz Kafka house Maisel Synagogue Old-New Synagogue Jewish Cemetary Pinkas Synagogue Rudolfinum
예약 가능 여부
원하시는 시간에 예약 가능한 트립이 없다면, 하실 수 있습니다.
8월 26일 월요일  

오전 10:00~오후 1:30.
15자리 중 4자리 남음
실시간 인기 트립 예약이 마감되기 전에 서두르세요!
Not recommended for low or non-English speaking guests. Ages 0-12, may attend for free. Slow, relaxed pace for the elderly. Cafeteria break included. We run DAILY! If bookings are full, SHOW UP ANYWAY