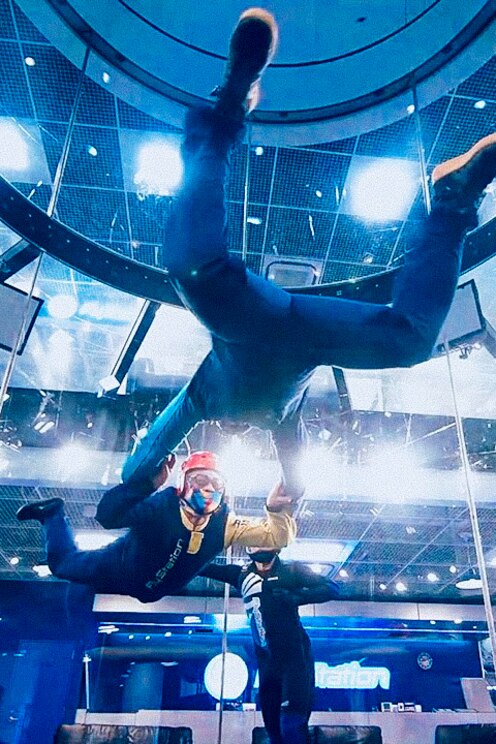 Indoor Skydiving Experience
Indoor Skydiving Experience
Let's fly at the first indoor skydiving facility in Tokyo. We are going to experience followings. - 2 flights at the indoor skydiving facility (+2700 yen for extra flights) - Transportation from JR Ikebukuro station to the facility - Your flights will be recorded and downloadable
포함사항
Equipment, Transportation, Tickets

Tickets for 2 flights Also includes instruction and briefing before the flight

Transportation by car Round trip from Ikebukuro station

All necesary equipment Helmet, goggles, flysuit will be included.
I myself am a Skydiver and I practice in the indoor skydiving facility. Since 2009, I have been traveling worldwide for skydiving. I myself has USPA D license and coach rating. As it will be indoor, almost no risk will be involved. I would like people to know how fun to fly and how fun to even see your friends flying. Skydivers communicate by jumping together and build relationships by flying! I am hoping this activity to be a memorable one to make your trip to be fun and unforgettable. Also, as a local in Tokyo. I would be available to answer any inquiries for your trip in Tokyo.
The location is indoor skydiving facility in Koshigaya, which is about 35km from Tokyo. I am going to pick you up by car in front of JR Ikebukuro station and drive on the highway on the north side of Tokyo. After the activity, I will drop you off at the same location. Please kindly let me know if you need direction to the JR Ikebukuro station, and I will provide direction.
놀이시간
Indoor Skydiving Experience
새로운 트립