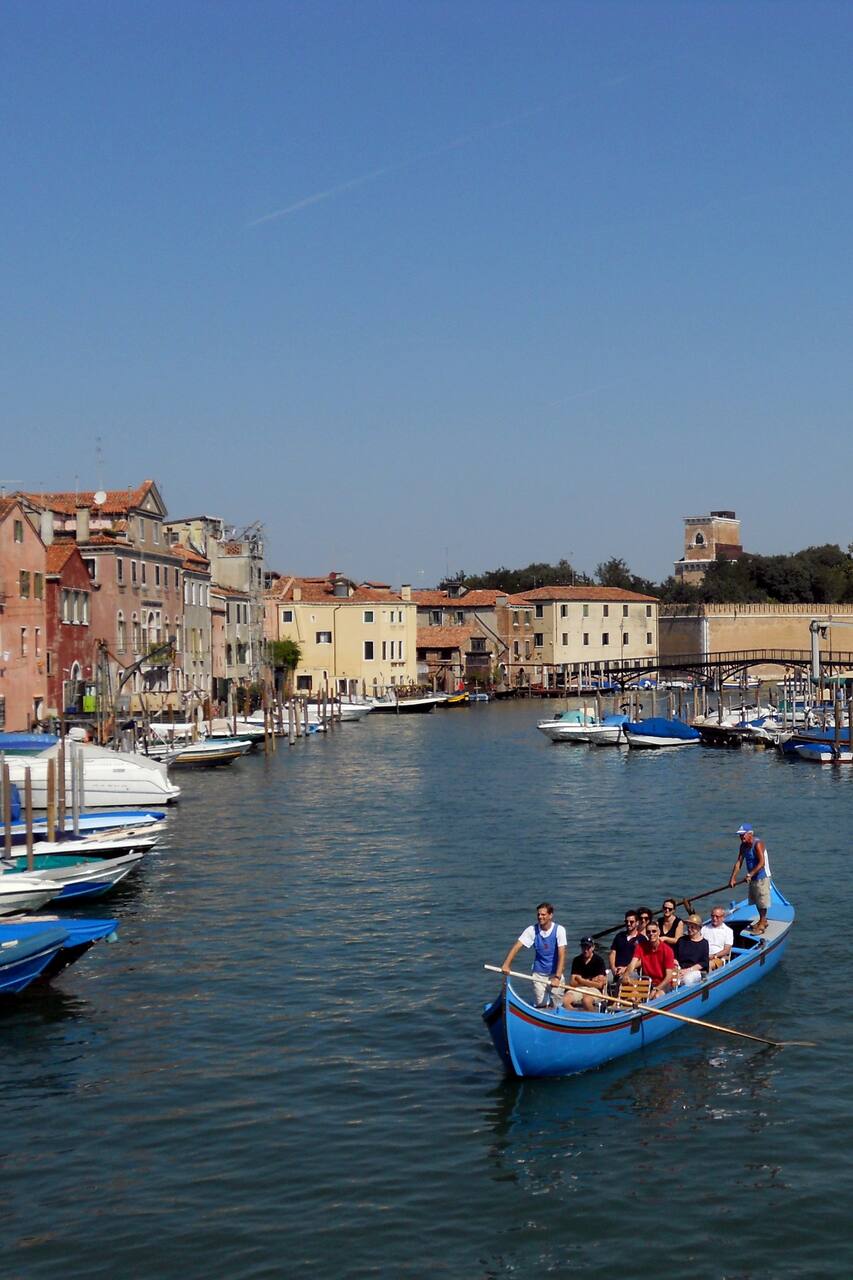 인기가 높은 트립입니다. 1,730명 이상의 게스트가 예약했어요.
I am a member of the rowing club Remiera Casteo, in the neighborhood of Castello, where I live. I am passionate of Venice history and traditions, I love sports, so choosing to praticte Venetian tradionional rowing was a natural choice for me. There is much to discover about this ancient rowing technique and the secrets of tradional boat fabrication, doing so, while going through hidden canals, is…
Remiera Casteo supports the development and preservation of the traditional rowing as a way to strengthen the local community and to rediscover in a new, sustainable way the natural and historical heritage of Venice. The aim of the Remiera is to involve the young generation through courses for children, engaging all members in the many public events organised with the Municipality of Venice.
참가비가 전액 Remiera Casteo ASD에 기부되는
착한 트립
입니다. .
Explore a hidden area of Venice in a traditional Caorlina rowing boat, an antique lagoon boat used for transportation and fishing. The Caorlina can host 8 people seated and it's rowed by two oarsmen. We will navigate slowly through the canals of the Castello sestiere (east part of the Venice historical island) where locals live. You will see an authentic area & neighborhood where most of the…
Guests must: - speak English, Italian or French. - be fit to get on board independently - dress code: comfortable. wear flat shoes and hat. - No luggages onboard - No pets allowed IMPORTANT:be on time
confortable shoes and clothes
water and hat during summer
waterproof coat, warm clothes, woolen hat, scarf for winter
We will meet on fondamenta Sant'Anna, at the end of via Garibaldi, in the heart of Castello neighborhood. We will navigate through the canals along the Arsenale walls telling you its amazing history and see the shipyards and towers from the water, as shipmen have done since 1104 AD. Seeing St. Peter's church, we will enter the Arsenale basin where you will have the chance to try rowing and will come back to the meeting point
향후 예약 가능 일자
원하시는 시간에 예약 가능한 트립이 없다면, 하실 수 있습니다.
8월 21일 수요일  

오전 10:00~오전 11:00.
8자리 중 3자리 남음

인기가 높은 트립입니다. 1,730명 이상의 게스트가 예약했어요.
Guests must: - speak English, Italian or French. - be fit to get on board independently - dress code: comfortable. wear flat shoes and hat. - No luggages onboard - No pets allowed IMPORTANT:be on time