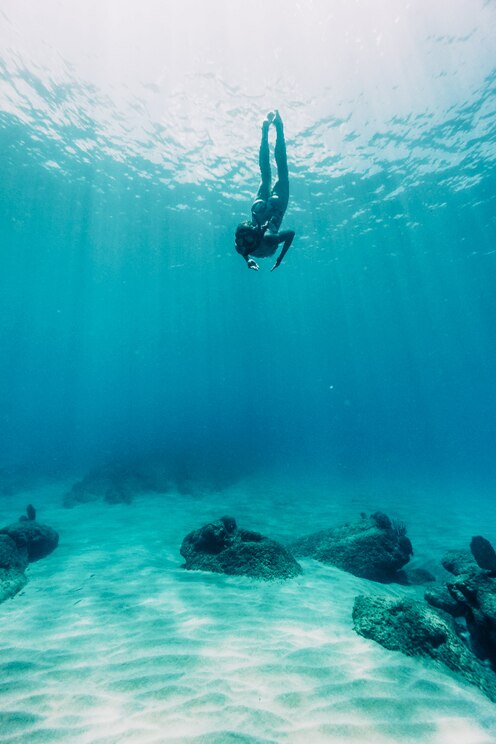 Explore the reef with biologists
Explore the reef with biologists
NOTE: We highly recommend contacting us first before booking since we are entering our swell season and scheduling gets tricky! :) We have availability beyond what you see on the calendar, so just ask us - we respond quickly! We'll meet you at Steps Beach or adjacent entrance to the Tres Palmas Marine Reserve…

Fresh fruit/granola bars

mask, fins, snorkel Optional flotation (noodle, snorkel vest) + underwater photos
We are Drs. Chelsea & Evan Tuohy, two marine scientists living in the beautiful town of Rincon! We have spent the last 7 years studying the reefs of our island, in particular the iconic Tres Palmas Marine Reserve. We are known in our town for our outreach geared towards ocean conservation. Our goal is to educate our community and our visitors about the importance of our ocean ecosystem in our backyard! Let us show you endangered corals, colorful fish and creatures, and tell you about the projects we work on with coral reef restoration. A truly exclusive experience with local biologists!
The Tres Palmas Marine Reserve is an iconic spot in Rincon, home to some of the biggest waves in Puerto Rico and the most beautiful sunsets. Under the water, we'll find the healthiest and most alive coral colony in the whole island - it is teeming with life of all sorts! The reserve is one of the best snorkeling locations in PR, and certainly the best on the west coast! We know the reserve well, so we can take you to the most unique spots!
신분증상의 사진과 대조할 수 있는 본인 사진을 찍어야 합니다. 이를 통해 에어비앤비가 트립에 참가하는 게스트를 확인할 수 있습니다. 이 절차는 한 번만 완료하시면 됩니다.
This activity is weather dependent. We recommend that you contact us ahead of time to check conditions as we enter swell season (November-April) as scheduling in advance can be tricky.
스노클링
Explore the reef with biologists