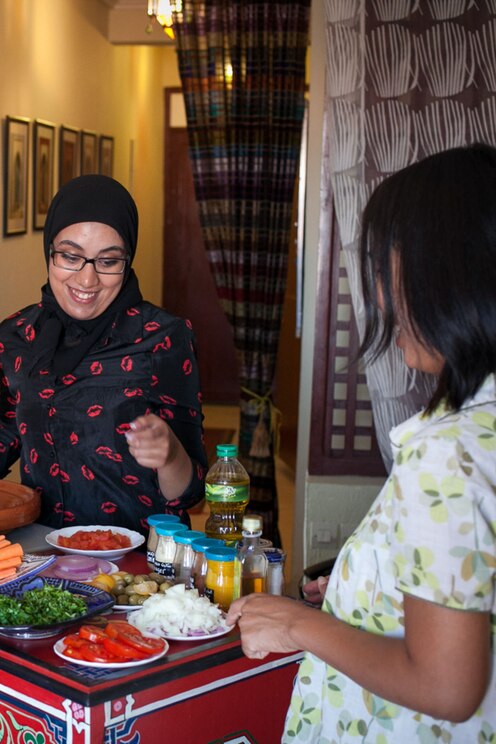 Cook tagine and learn Arabic! What a great way to enjoy your Moroccan travel experience. You will start your experience learning the basics of Moroccan Arabic. This is an interactive, fun and immersive language workshop delivered in Arabic by local facilitators. You will be surprised how much Arabic you will…
포함사항
Equipment, Drinks, Food

Moroccan Tajine. Moroccan tea and pastries We can cater to people with dietary restrictions. Guests need to inform us of…

Water and soft drinks Tea and coffee

Arabic booklet, & recipe Name Button/Badge written in Arabic
I am the co-founder of Creative Interactions- a training company based in Marrakech. I have been living in Morocco for many years. I love the food, the people and the languages of Morocco. I have enjoyed learning to cook Moroccan cuisine and hosting people from different countries. I speak several languages including Arabic which helps me connect deeper with Moroccans. I also work with a team of Moroccans who love to share their culture and language. I'm passionate about connecting people over a good meal and enriching conversations. Come and discover Morocco!
We will have the workshop in Gueliz, right downtown Marrakech where you will experience the newer part of the city. We are close to downtown shopping area.
The language workshop will be delivered by a local facilitator in Arabic for immersive experience. The host can do translation as necessary.