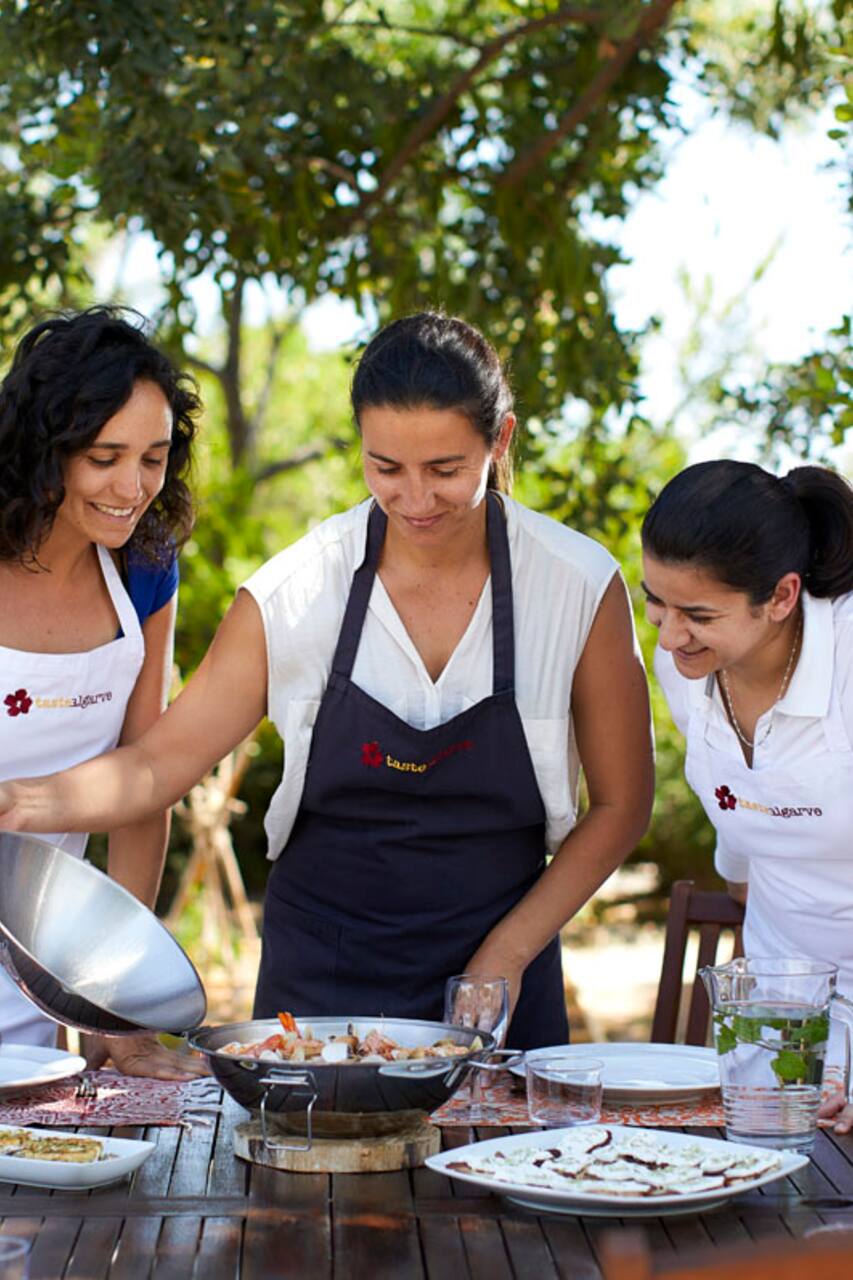 Hi! I'm Mariana. I was raised in the South of Portugal, Algarve, where the sun shines almost all year round and the temperatures invite to live the outdoors. Having a big family with strong culinary traditions, I have spent a good part of the family gatherings in the kitchen, watching, tasting and helping the "experts". I've created Taste Algarve in 2012 when I realized that some of the local…
In this activity, that will take place in a traditional farm, Monte do Álamo (in Tavira), we will learn how to prepare a delicious meal using always the best local products. The activity starts with a visit to a local market where we will buy together the ingredients for the recipes. The local market offers a wide variety of fresh produce from the region, from fish and seafood, vegetables, olive…
We are not a cooking school More than learning complicated cooking techniques and recipes, participants experience our lifestyle by meeting and cooking with a local family in a traditional farm house
음식
traditional food We can accommodate specific dietary requirements when informed in advance: vegetarian, lactose free, gluten free, etc.
Class starts in Tavira market. Right by the market participants can see the famous saltpans where we still produce the "white gold", salt and fleur de sel. After shopping for all the ingredients, we will head to Monte do Álamo farm to prepare together and enjoy a delicious lunch, with a local family in a beautiful setting, overlooking the sea. Monte do Álamo is a 7ha farm with its own organic fruits and vegetables production and a charming hotel
신분증상의 사진과 대조할 수 있는 본인 사진을 찍어야 합니다. 이를 통해 에어비앤비가 트립에 참가하는 게스트를 확인할 수 있습니다. 이 절차는 한 번만 완료하시면 됩니다.
이 트립은 주류를 포함합니다. 법적 음주 가능 나이에 해당하는 게스트에게만 주류가 제공됩니다.
We are not a cooking school More than learning complicated cooking techniques and recipes, participants experience our lifestyle by meeting and cooking with a local family in a traditional farm house