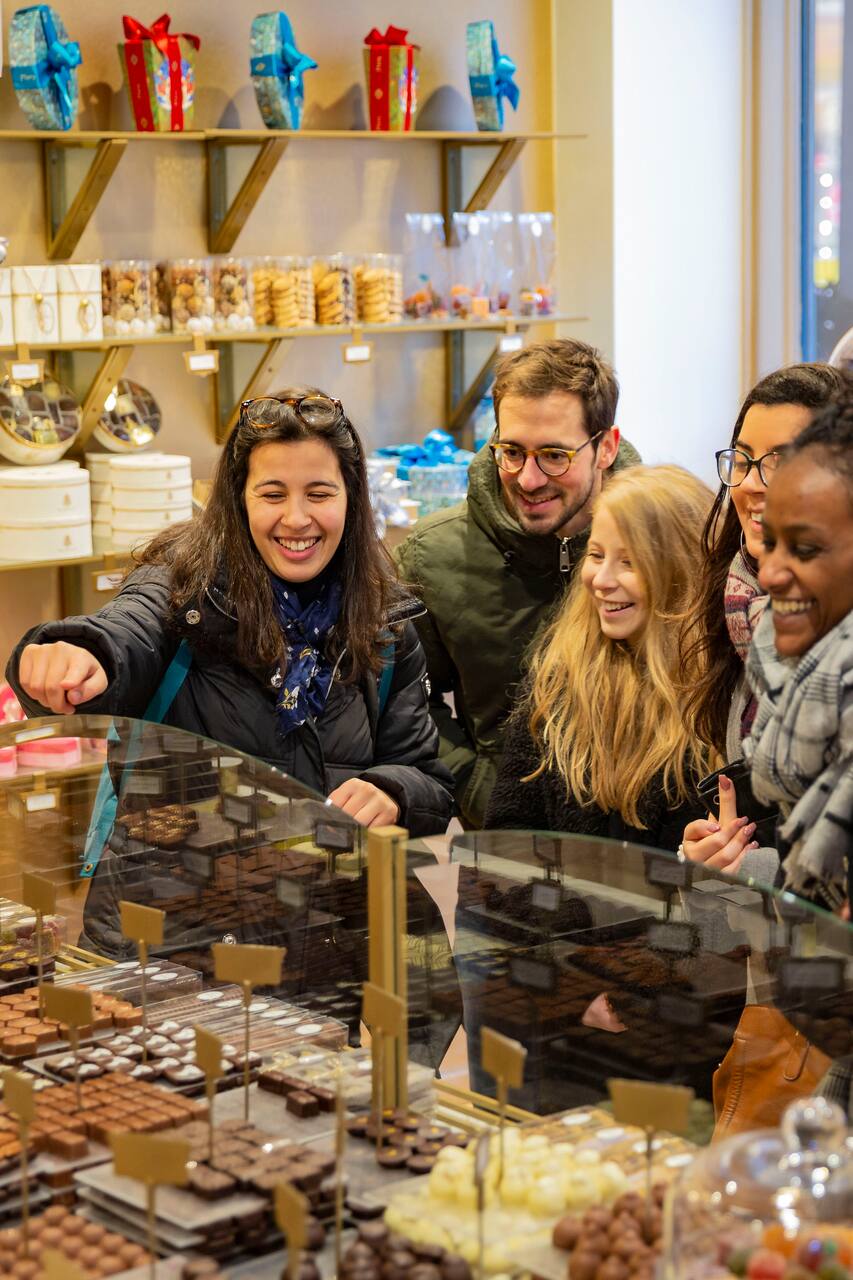 Includes:
음식, 음료, 입장권 1매, 장비

320명이 넘는 게스트가 이 트립에 별점 5점을 주었습니다.
IG: sweet_brussels_tours Welcome to this high-class gourmet tasting, and top-ranked Airbnb experience! We are Yasmine and Joanne, and for total chocoholics and culture lovers like us Brussels is THE place to be. As true locals (born and raised in Brussels!) we want to share our passion through this laid-back, intimate experience focused on expertise and high-quality (small groups of 8 people)…
Do you also believe that artisanal food is the best way to discover a new culture? And that food experiences are better in small groups? Our first part will focus on Belgian sweet food culture and on the history and traditions of our beloved hometown. You will understand Belgianness by tasting all the best artisanal treats of our small kingdom: Flemish waffles, pain d'amande, salted caramel,…
-We're often fully booked! Contact us if the dates you wish aren't available/for private experiences. -Your guide will be either Yasmine or Joanne. The experience takes around 2,5hs. -This is not a crowded "touristy" tour but an intimate experience (max 8 ppl.) with a local expert
디저트 및 시식 메뉴
+15 Artisanal Tastings Part 1: Flemish waffle, galette, speculoos, artisanal cookies/biscuits, chocolate confectionery Part 2: Grand Cru chocolate tasting, Palate cleansers, Craft coffee/fine tea & chocolate pairing, Experimental ganache tasting
커피, 청량음료, 차 및 기타
-Freshly roasted craft coffee/fine tea from a local micro-roastery -Water/soft drinks
티켓
Discounts in some of the shops, to be used whenever you want!
장비
A serious list of great recommendations in Brussels and many more European cities!
A bottle of water (to cleanse your palate after each sample)
An umbrella/raincoat just in case (this is Belgium you know!)
Comfortable shoes (20 minutes walk)
Your smile and good mood! :-D
We will start with a high-end confectionery tasting in the area of the Royal Galleries where we'll discover some hidden gems and old traditions. The second part of our journey will consist of a single origin chocolate tasting: we will learn everything about the art of tasting and recognizing different Grand Cru chocolates from small artisans. Last but not least, we will reach the Sablon district and try some more experimental chocolates!
향후 예약 가능 일자
원하시는 시간에 예약 가능한 트립이 없다면, 하실 수 있습니다.
8월 19일 월요일  

오전 10:30~오후 1:00.
8자리 중 4자리 남음

320명이 넘는 게스트가 이 트립에 별점 5점을 주었습니다.
-We're often fully booked! Contact us if the dates you wish aren't available/for private experiences. -Your guide will be either Yasmine or Joanne. The experience takes around 2,5hs. -This is not a crowded "touristy" tour but an intimate experience (max 8 ppl.) with a local expert