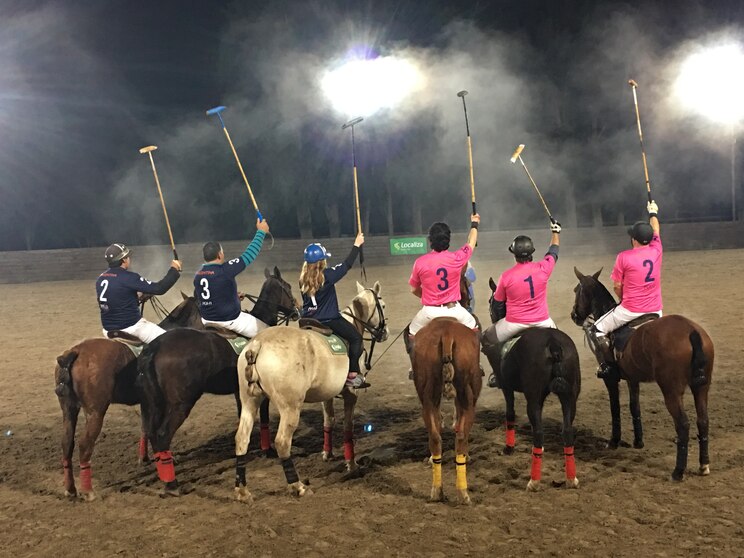 Watch Polo Under The Stars!
Watch Polo Under The Stars!
You will watch a 4 chukka polo match played by professional players. While you feel the adrenaline of the fast pace game, at the only illuminated polo field in the world, you will be introduced to a gastronomic experience based on our argentine culture. During the first chukker you will enjoy a typical "picada…

Regional Food Jam and cheese, Empanadas, Gourmet Sandwiches of Sausages and Meat

Refreshments Orange Juice, Water, Coffee, Tea, Mate
Since 2009, We - Celia, Ruben and Valentina the little one - have been hosting visitors from all over the world sharing our passion for horses and nature. Ruben is the polo player, non stop, charismatic and great chef! Celia is from every country because although born and raise in Argentina she has traveled a lot and always have fun anecdotes to tell. And Valentina, well, when she is at the estancia, you will definitely know about her, she is the social! We are very excited to share the only illuminated polo field in the world for you to get up close to this exclusive sport in a fun night out!
Argentina Polo Day is at a privileged location, only 50 minutes away from Buenos Aires city and within an area that hosts many of the most important international polo events and championships in the world. Capilla del Señor is a pintoresque place that still keep his genuine small town atmosphere.
예약 가능 여부
원하시는 시간에 예약 가능한 트립이 없다면, 하실 수 있습니다.
8월 25일 일요일 − 8월 26일 월요일  

오후 7:00~오전 12:00.
10자리 중 10자리 남음
신분증상의 사진과 대조할 수 있는 본인 사진을 찍어야 합니다. 이를 통해 에어비앤비가 트립에 참가하는 게스트를 확인할 수 있습니다. 이 절차는 한 번만 완료하시면 됩니다.
We are happy to organize a trusted driver for transportation. Your cost depends on the location of your pick up/drop off. We have a Polo Shop for you to get nice gifts for friends and family!
스포츠 행사
Watch Polo Under The Stars!
새로운 트립