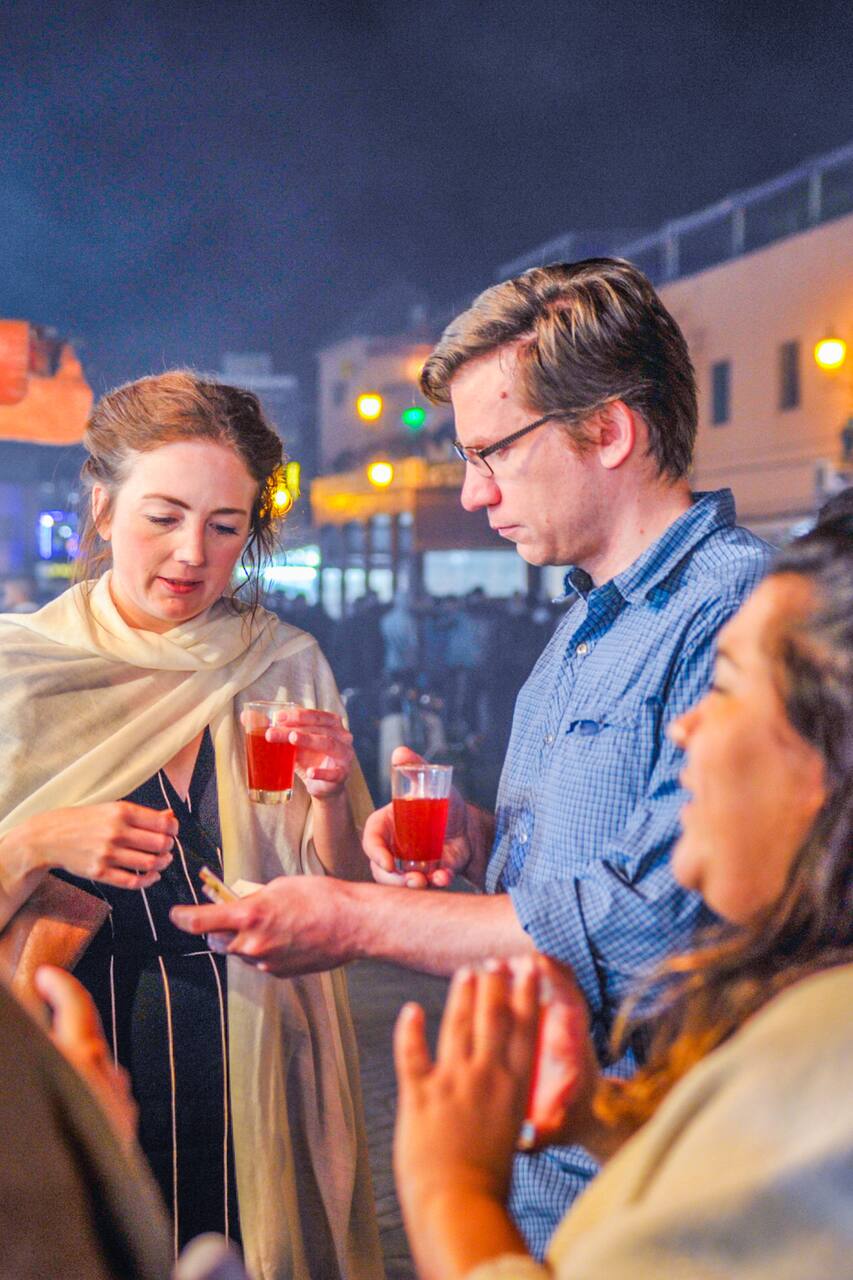 마라케시에서 꼭 먹고 마셔야 하는 것(저녁 7시)
마라케시에서 꼭 먹고 마셔야 하는 것(저녁 7시)
Born and raised in Marrakech, I've been a licensed guide by the ministry of tourism for a while now. I speak fluent English and have led tours from 1-12 people. This is one of my favorite tours - it's fun for me to bring travelers, backpackers, or whomever is interested to see the hidden gems of my city. If I weren't doing this tour I'd be backpacking somewhere where my passport allows me…
You like beer or wine ? How about local foods and trying new things? Maybe deep and interesting conversations? Well if you answered all those questions with yes! you are in the right place. Tag along with me on this little adventure, where I will take you to one of the coolest,local, hidden bars in the Red City. We'll try Moroccan beer and then head off to another hidden spot for some Moroccan…
Morocco's latest time change is confusing everyone , while booking the experience might show @8PM or @6PM , The experience starts @7PM. The experience is a bit pricier than what's on the marketplace and that goes back mainly to one thing : Alcohol ! The latter is expensive due to the heavy tax on it
간식, 애피타이저 및 저녁식사
Popcorn in the 1st stop and a set of tapas in the 2nd stop. A local dinner at the end of the experience in a local restaurant by the square. (Vegetarian available )
맥주, 차, 생수 및 와인
2 Moroccan beers for each guest in the 1st stop. A bottle of Moroccan wine for a group of 1-5 , 2 bottles for a group of 6-10 in the 2nd stop. Moroccan mint tea with dinner.
A smile and good vibes :)
A general idea and a good understanding of the experience's description :)
The visited places are : - A Local Bar (Beers) - A hidden Bar (Wine) -A Local Restaurant (Tanjia) PS: In Ramadan we will have both beers and wine in the same bar.
예약 가능 여부
원하시는 시간에 예약 가능한 트립이 없다면, 하실 수 있습니다.
8월 26일 월요일  

오후 7:00~오후 10:30.
10자리 중 10자리 남음
이 트립은 주류를 포함합니다. 법적 음주 가능 나이에 해당하는 게스트에게만 주류가 제공됩니다.
Morocco's latest time change is confusing everyone , while booking the experience might show @8PM or @6PM , The experience starts @7PM. The experience is a bit pricier than what's on the marketplace and that goes back mainly to one thing : Alcohol ! The latter is expensive due to the heavy tax on it
도보 음식 탐방
마라케시에서 꼭 먹고 마셔야 하는 것(저녁 7시)