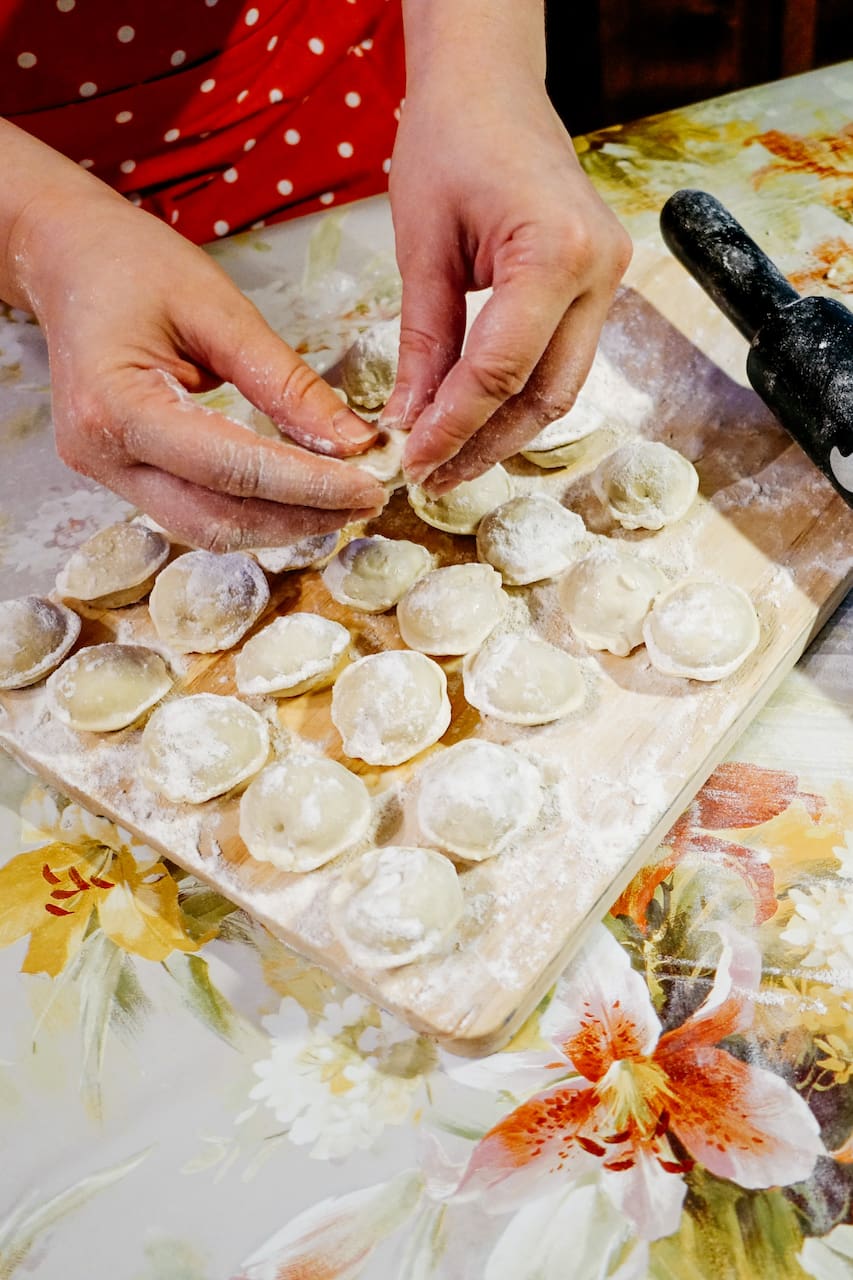 Dumplings(Pelmeni) &Soup(Okroshka) &More
Dumplings(Pelmeni) &Soup(Okroshka) &More

실시간 인기 트립 예약이 마감되기 전에 서두르세요!
Leaders: Anton and Tamara We are Anton and Tamara, the young couple of travelers, spending more than half of a year outside the hometown. We know almost everything about travelling and believe that the best way to feel a country is to taste it from inside, to become a part of its culture and make local friends. That is why we created these cooking classes to give you an opportunity to touch real…
Discover russian culture in a beautifull old Moscow kitchen with locals! **** During the cooking class you will: - Make two styles "okroshka*" and vote for the most delicious one - Prepare pelmeni* and select the best sauce accompanied - Follow a deep-rooted tradition of tea drinking with folk sweets - Try Russian ethnic none- and low alcohol drinks (such as medovukha) - Get to know the story of…
- Time is flexible. Say what will be perfect to you! **** And we highly recommend you to combine this experience with "Food market within old monastery walls" tour https://www.airbnb.ru/experiences/246293
점심식사, 디저트 및 기타
We provide. Additional - All the ingredients for the meals preparation - Equipped authentic cooking place - Various souces accompanying dishes - A special sweet surprise
맥주, 청량음료, 차, 생수 및 기타
Drinks - Traditional Russian soft and low-alcohol drinks - Delicious Russian tea and coffee
장비
Flyer How to read Russian There is Russian alphabet with English transcription and some words. Our leaflet will help you to read many signs in Russian.
We will cook in an authentic soviet union apartment near the center of Moscow (16 min from Red Square by metro). During the master class you will: learn the secret of Russian cuisine from locals, be able to cook it on your own and surprise your family and friends with the exotic and delicious dishes, learn insights about Russian culture from new friends.
향후 예약 가능 일자
원하시는 시간에 예약 가능한 트립이 없다면, 하실 수 있습니다.
8월 21일 수요일  

오후 1:30~오후 4:30.
6자리 중 5자리 남음

실시간 인기 트립 예약이 마감되기 전에 서두르세요!
이 트립은 주류를 포함합니다. 법적 음주 가능 나이에 해당하는 게스트에게만 주류가 제공됩니다.
- Time is flexible. Say what will be perfect to you! **** And we highly recommend you to combine this experience with "Food market within old monastery walls" tour https://www.airbnb.ru/experiences/246293
쿠킹 클래스
Dumplings(Pelmeni) &Soup(Okroshka) &More