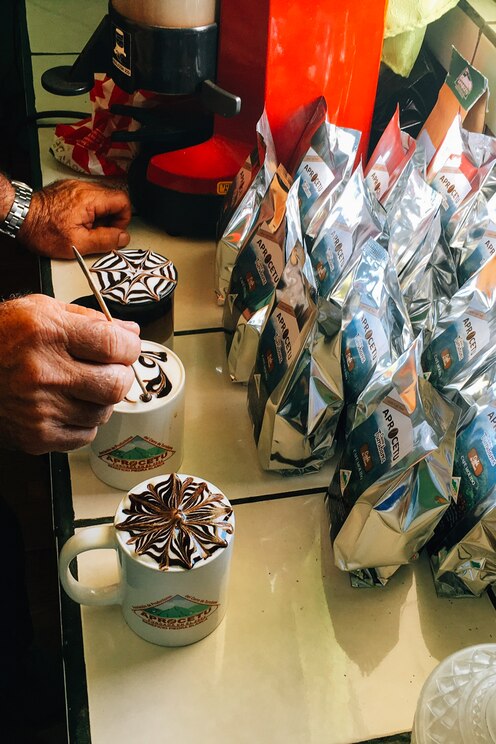 Turrubares Mountain Hike & Coffee Tour
Turrubares Mountain Hike & Coffee Tour
We'll pick you up at 7am in San Pedro de Turrubares, drive you for 45 minutes to San Rafael to get a traditional breakfast at Don Arnoldo's home, one of the community leaders. We will then take you for a hike in the woods that will be betweeb 5 and 6 hours long. Before we enter the forest the you will see coffee…
포함사항
Transportation, Drinks, Food

Breakfast and lunch Simple traditional costarrican meals, homemade by don Arnoldo's wife.

Coffee Cappuccino or americano to enjoy in the afternoon, and a 250gr bag of medium roast coffee to take home.

S.Pedro-S.Rafael-S.Pedro From San Pedro up to the mountains in San Rafael, and at the end of the tour back to original…
We live in a beautiful rural town and are in love with its natural beauty: mountains, forests, rivers and waterfalls. We are proud of the local coffee planters, who grow their coffee up in Cerro Turrubares and export to Japan, UK and USA. The many small coffee plantations are in the middle of the forest in the mountain Turrubares at around 1200-1600 meters of altitude. Our motivation is to share the beauty of this place and to promote its development through agro-tourism.
Our experience takes place in San Rafael de Turrubares. This small town is located high in the mountain. There are certain secret nature spots only known to locals. During our hike we will visit the "hollow tree", and we will see the small coffee plantations located on the outskirts of the forest. We will also experience first hand the lifestyle of coffee planters and visit their processing plant .
To get to our meeting spot we recommend to rent a car and drive to San Pedro de Turrubares, where you can leave it parked and we'll drive in my vehicle.
당일여행
Turrubares Mountain Hike & Coffee Tour
새로운 트립