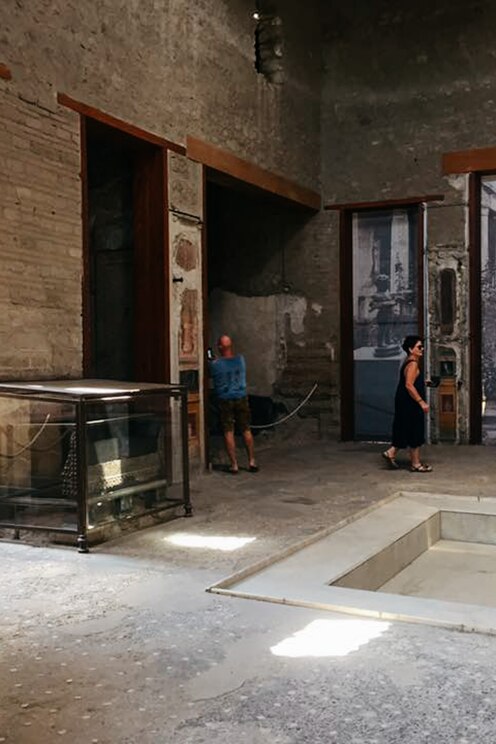 In this walking excursion, you can see the most important houses of the site, structures, and public buildings, the splendid Villa dei Misteri and the magnificent Amphitheater. And of course, you cannot miss the plaster casts, fascinating testimony of the ancient inhabitants of Pompeii. In this 4 hour experience,…

Coffee Neapolitan Coffee
I am the President of Cultural Association Archèia, a nonprofit in Naples. I graduated in "Archeology and Sciences of Antiquity and the Middle Ages" with a thesis on the wall paintings of the "Villa Imperiale" of the site of Pompeii. I worked with the Campania Region for the creation of the projects for Pompeii and Minori, I monitored the Museum of Contemporary Art in Naples, I was tour leader in the archaeological sites and at the Museum of the Certosa, and was wardrobe operator in the archaeological sites of Pompeii and Herculaneum. This experience will be hosted by an expert guide!
Associazione Culturale Archèia
The Cultural Association Archèia has for social purpose the protection and enhancement of the historical, artistic, archaeological, environmental and natural heritage, local traditions, the development of social tourism and the tourism promotion of our territory, the Campania Region, with its wonderful museums and archaeological sites and landscapes. The fee includes the associative contribution.
참가비 전액이 Associazione Culturale Archèia 에 기부되는 착한 트립입니다.
Basilica, Forum, Temple of Juppiter & Venus, Political buildings, Forum Baths, Macellum, Plaster casts, Triangolar Forum, Theaters, House of Menander, Lupanar, Bakery, House of the Faun, House of Tragic Poet, Necropolis of Nuceria Gate, City Walls, Amphitheater, Fields of fugitives, House of the Ship Europa, street of Abundance, Termopolium of Vetutius Placidus, The Fullonica of Stephanus, House of Menander, Fountain of Abundance and much more.
예약 가능 여부
원하시는 시간에 예약 가능한 트립이 없다면, 하실 수 있습니다.
8월 27일 화요일  

오전 9:30~오후 1:30.
10자리 중 10자리 남음
If it rains I recommend a k-way! For those who want to visit Pompeii but do not have as much time, we have 2-hour Social Impact Experience here: https://www.airbnb.com/experiences/153319