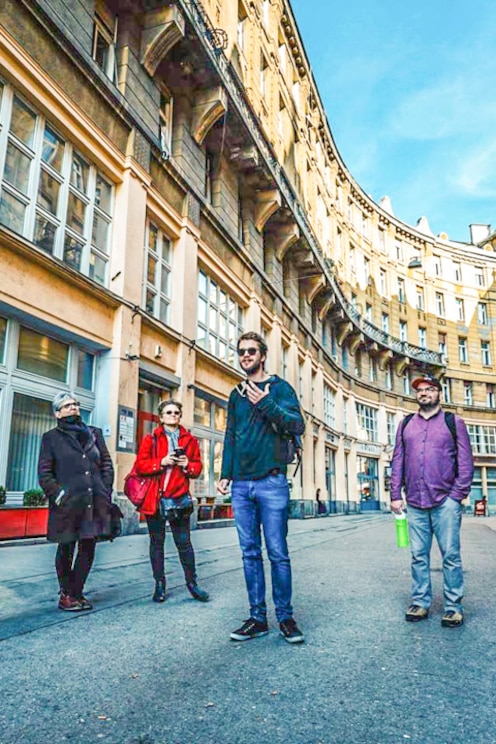 We'll take a walk in the center of Budapest and talk about the city's architecture, urban context, and of course a bit of history as well. You'll get a more detailed understanding of just how fantastic this city is. Budapest is made of successes and failures, a mixture of different styles overlaid over one…
I'm János, a local architect from Budapest. I am the curator and program manager of several different projects at the Hungarian Contemporary Architecture Centre (KÉK), such as Budapest100 and Walking Tours. I regularly do guided tours for locals and tourists alike. I have always been passionate about Budapest, and find it very important to have a better understanding of our built environment. That is why I love walking and talking about my city! Since I am a local, "born and raised", I can provide a combination of personal and professional insights to the architecture of Budapest.
KÉK - Contemporary Architecture Centre
KÉK is an independent architectural cultural centre operated by young Hungarian architects, artists and civilians. The centre aims to open new perspectives in architectural and urban thinking in Hungary through its fresh, provoking and focused programs, relevant also in international context. KÉK regularly organizes city walks, inviting a wide audience to discover the city's architectural secrets.
참가비 전액이 KÉK - Contemporary Architecture Centre에 기부되는 착한 트립입니다.
A hole in the ground turned into a concert space! A "could-have-been" skyscraper in Chicago-style! We'll check out different public spaces, and how they serve the local community as well as the touristic image of the city. We'll also see Szervita Square, where the eclectic architectural mix of Budapest has all the essentials, from baroque to modernist. Walking by the Danube we'll take a look at the world heritage Buda side as well.
Naturally it's a good idea to come in comfortable shoes, and an umbrella if the weather is rainy. Bring your camera or sketch book as well!