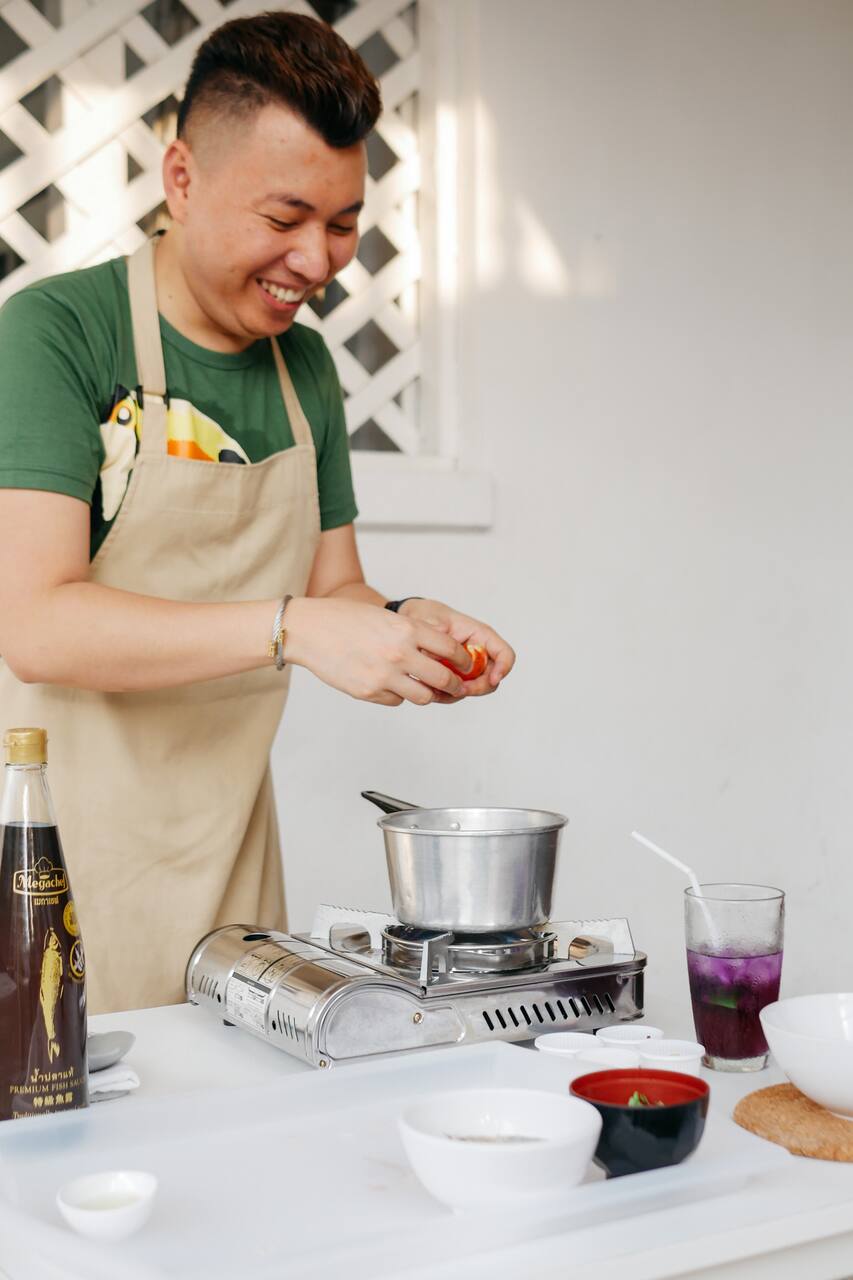 50명이 넘는 게스트가 이 트립에 별점 5점을 주었습니다.
I divide my time between California and Bangkok, where I serve as Deputy Director in the Courageous Kitchen. I oversee day-to-day activity and manage food education programs for asylum seekers and refugees. I'm a huge foodie and avid home chef, with a passion for people and entertaining. In January of 2017 I launched a Thai cooking course for tourists in Bangkok and began developing a cookbook.
Courageous Kitchen Inc. 소개
Courageous Kitchen is a non-profit organization inspiring community leadership through the power of food! The organization provides food aid, education, and training to refugees aiming to improve their health, English skills, and overall confidence. We're changing our community, one plate at a time!
참가비가 전액 Courageous Kitchen Inc.에 기부되는
착한 트립
입니다. .
Join me in my home for a Southeast Asian inspired feast! We'll start by having some homemade Thai Tea together, then I'll show you how to create one of my favorite Asian dishes. Guests will learn Lao, Vietnamese, or Thai recipes. In addition to the dish we'll cook together, we'll have two more courses and some drinks to round out the night! Over dinner, you'll be able to hear about the work…
Feel free to invite friends, family, or book an awesome team building or dinner party all in the name of charity -- message for custom classes! Also, bring a hearty appetite and an open mind.
Food
Tom Kha + Two Entrees A very popular coconut based soup with lemongrass, galangal, and kaffir lime is the perfect introduction to Thai cuisine.
Drinks
Thai Iced Tea I will provide 3 drinks with dinner: Traditional Thai Iced Tea, Water or Glass of Wine
A hearty appetite + an open mind
A light jacket or sweater