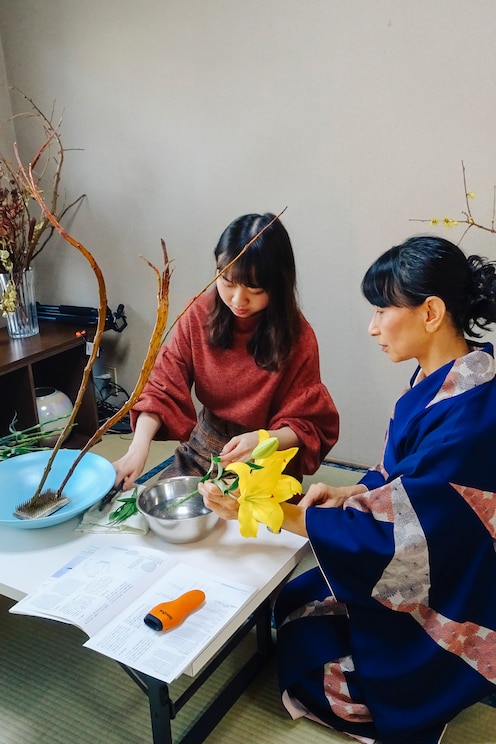 Arrange flowers at Asakusa
Arrange flowers at Asakusa
We'll meet at the Kaminarimon (Thunder Gate) at 12:45 PM. Then I'll take you to a famous old Japanese restaurant. Adjacent to it is a cute flower shop where I will have ordered a set of materials for ikebana, the Japanese art of flower arrangement. There is a narrow doorway passing a quaint gate to the entrance…

Scissors and a container
As well as being an ikebana teacher, I also work as a tour guide. This area is my favorite place, and I have the chance to visit several times a month. I would like to introduce this place from many aspects. This house is a long-lasting one. You will feel the old Japanese atmosphere there. It has an alcove which represents old good Japan. Please feel everything such as architecture, garden, and the interior. Under such circumstances, we'll do ikebana. Please see the other event "Explore Japanese flower arranging" which is held at my house in the morning.
The house is a venerable place, so there's no gaudy sign. It represents traditional Japanese culture in the modern world. Please feel the old Japanese atomosphere such as Tokonoma and Ranma etc. Especially please note that the bulding itself is so valuable, where many shooting is made in order to express the exective status.
신분증상의 사진과 대조할 수 있는 본인 사진을 찍어야 합니다. 이를 통해 에어비앤비가 트립에 참가하는 게스트를 확인할 수 있습니다. 이 절차는 한 번만 완료하시면 됩니다.
If you don't need materials, please leave them.
워크숍
Arrange flowers at Asakusa
새로운 트립