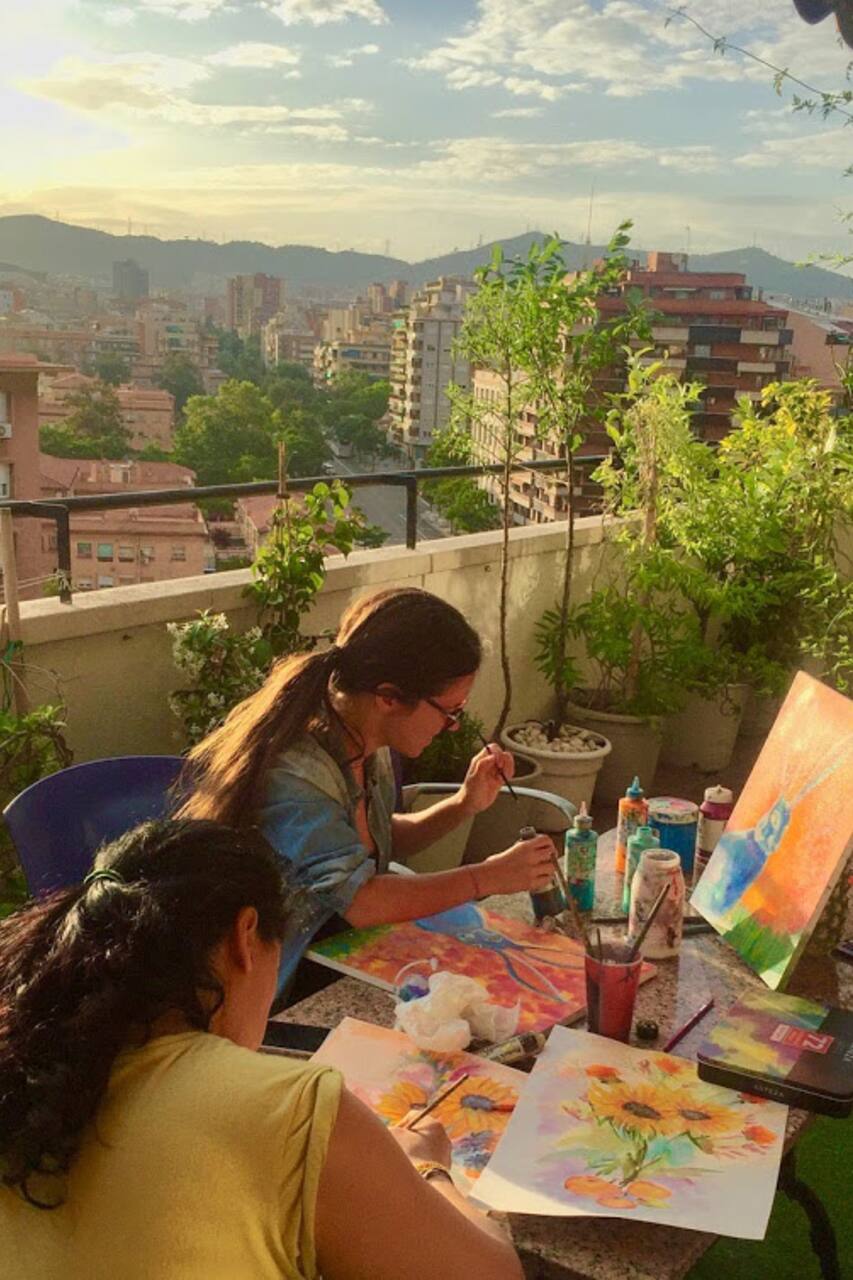 Languages:
러시아어, 스페인어, 영어로 진행
I am an artist living in Barcelona for the last 5 years. During daytime I work in flower store preparing floral compositions, painting portraits and helping clients to find the perfect plant for their home. During evenings I enjoy sharing my time teaching people how to paint & connect with their inner creative self. When I'm not creating flower bouquets or painting, I like to escape the city for…
Every week there is going to be a special night when you connect with yourself and own creative spirit, learn about shapes, colors and designs and share your artwork with other bright people. Art is not only pleasure for eyes, but also a great relax for mind and recharge of good energy. You do not need any previous knowledge or skills for it , since I will show you how easy is to feel, create and…
1. Clothes can get painted. Please don´t put your best suit on or have a change 2. Materials are included in price 3. Place is huge, we will be outdoors but there are still 2 curious cats living in
간식
Fruits , nuts , pica-pica
음료
Vino Try new local wines every session
We are going to meet in my terrace surrounded by plants and sun. Is important to see beauty in order to reflect the beauty, this is why so many famous artists are coming from stunning countrysides and seasides. This is the reason why place with views is a must-have for art session. After we done with painting we will enjoy sunset and Barcelona cityscapes.
향후 예약 가능 일자
원하시는 시간에 예약 가능한 트립이 없다면, 하실 수 있습니다.
8월 21일 수요일  

오후 7:00~오후 9:30.
10자리 중 10자리 남음
이 트립은 주류를 포함합니다. 법적 음주 가능 나이에 해당하는 게스트에게만 주류가 제공됩니다.
1. Clothes can get painted. Please don´t put your best suit on or have a change 2. Materials are included in price 3. Place is huge, we will be outdoors but there are still 2 curious cats living in