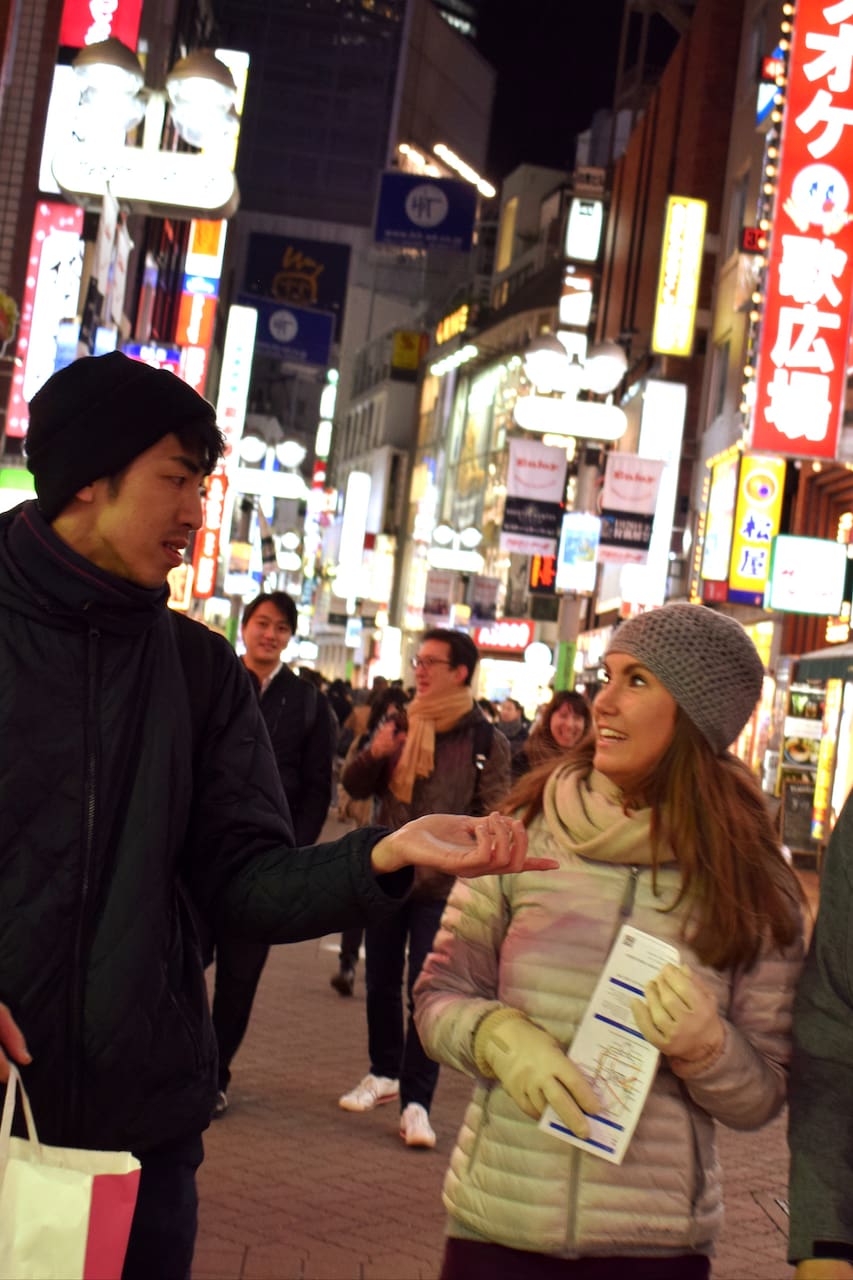 "Must do" Walking Tour in SHIBUYA
"Must do" Walking Tour in SHIBUYA
Hello everyone! We're are the tour group called "Hang Out Japan". We've been doing guide volunteer in Shibuya for 5 years and organizing international meet up event in guest houses in Tokyo on every weekend. We're also working at Tourist information in Shibuya. We will show you lots of unique and hidden places in Tokyo then entertain you wherever you go!! Let's have fun and share your life and…
It's perfect for FIRST TIMER in Shibuya. I will show you both traditional side and modern side of Shibuya, you will have a chance to explore the local streets. If you have any questions during the tour feel free to ask me anything! What is interesting food in Shibuya? Why are there so many people at Shibuya crossing? What has changed and will be in the future? I'm working at Tourist information…
Acceptable delay is by 10 minutes. Unacceptable to join from the middle of the tour if you come late Great for Solo Travelers. Great for first timer in Japan. Showing you a lot of restaurants and bars
If it rains, please bring an umbrella.
I'll show you little bit everything of Shibuya. Explore the side of the town that locals love, and that visitors come to experience, including the town's most popular and hidden places.Mainly I will show you a lot of restaurants and bars in Shibuya but this tour is a must for anyone wanting to real experience in this unique town include best food and drink. It's a perfect for First timer in Shibuya. You'll never miss "must of Shibuya" if you join
향후 예약 가능 일자
원하시는 시간에 예약 가능한 트립이 없다면, 하실 수 있습니다.
8월 23일 금요일  

오전 10:00~오전 11:30.
6자리 중 6자리 남음
Acceptable delay is by 10 minutes. Unacceptable to join from the middle of the tour if you come late Great for Solo Travelers. Great for first timer in Japan. Showing you a lot of restaurants and bars
역사 도보 탐방
"Must do" Walking Tour in SHIBUYA