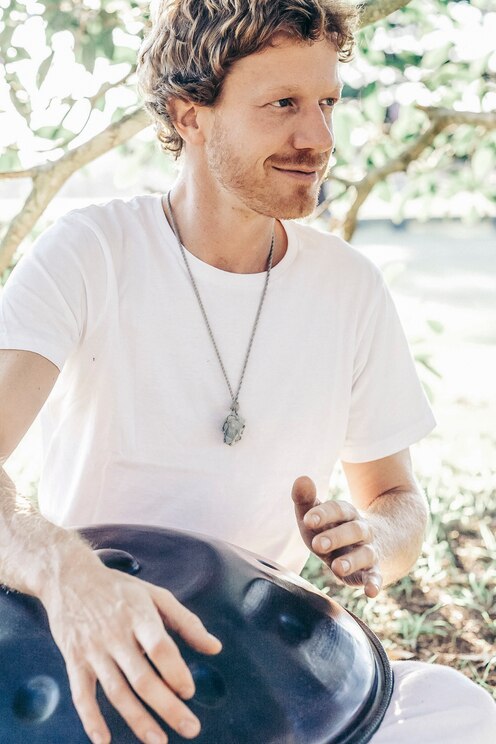 Sound Healing Activation Session
Sound Healing Activation Session
Sound Healing is one of the fastest ways to shift and move energy within the body, releasing blockages and aches and pains within the muscles. We will begin the workshop with short, simple and effective breathing exercises to calm the system, reduce stress, anxiety and any tension promoting a natural state of…

Filtered water Organic Tea
Curt Hannagan has been a musician and percussionist since the age of 12 years old where he began to learn and study percussion. Over the years his connection to music became a passion and ultimately opened up opportunities where he began performing professionally and at the age of 18 he was accepted into Russel Crowe's South Sydney Rabbitoh's Drum Squad and began performing live to a sold out Homebush stadium of 70,000 people. Curts transformation over the years has led him to start creating and performing workshops of sound healing to help people connect to their inner peace and wellness.
You will experience the sound journey with the lush surroundings of the Woronora Valley comprising of a large variety of nature and bird life to support the experience! We are operating the experiences from a brand new retreat centre with built-in Shala and state of the art facilities to accomodate all guests and clients.
신분증상의 사진과 대조할 수 있는 본인 사진을 찍어야 합니다. 이를 통해 에어비앤비가 트립에 참가하는 게스트를 확인할 수 있습니다. 이 절차는 한 번만 완료하시면 됩니다.
Transportation is available from a taxi service from Sutherland train station. The cost is about $10.00 - Please bring your happy high vibing energy and your lovely smile! that's all we ask for :)
건강한 심신을 위한 클래스
Sound Healing Activation Session
새로운 트립