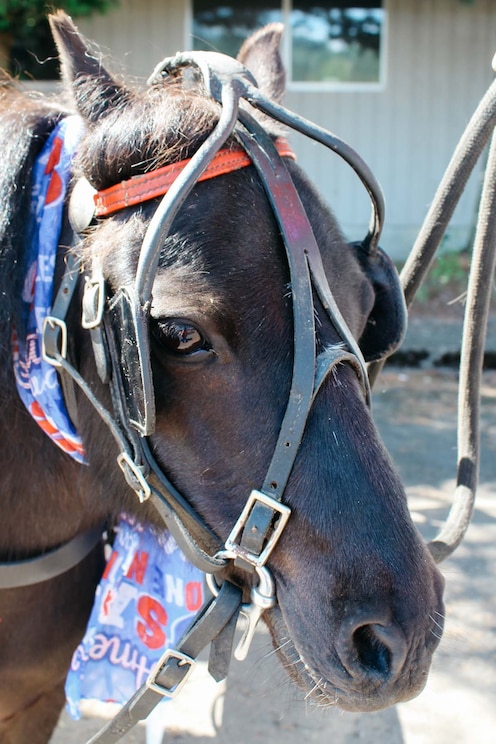 Wine, Dine & Drive A Horse!
Wine, Dine & Drive A Horse!
We will catch our American Miniature horse "Scalloway," put a halter and lead rope on him, lead him out, brush him up and be sure that he is well groomed. After that, we will tack him up with his harness, hitch him to the cart and you will learn to drive the little guy! You will love it! When we are done, we…

Seasonal items to share Let us know if you have allergies or are vegan/ vegetarian.

Water or Soda, etc. Wine provided free of charge.
I am an Oregon State Certified teacher so am happy to teach you how to drive Scalloway but also I have had hundreds of horses in my lifetime and so I am glad to share my knowledge with you. You will learn a lot and fall in love with our little horse! Enjoy all the sights and sounds of our Farm Program and the other farm animals too! You can enjoy seeing our cow, goats, sheep, dogs, other horses, rabbits, geese, ducks, chickens and our donkey too!
Old McDonald's Farm, Inc. (OMF) is the only nonprofit in Oregon that combines farm animals, agriculture, gardens and natural resources to provide an educational enrichment program for all children including at-risk children and youth in a safe and secure farm setting. OMF is located on a 68-acre farm about 25 minutes east of downtown Portland. We have served and taught nearly 22,000 children.
참가비 전액이 Old McDonald's Farm Inc.에 기부되는 착한 트립입니다.
Join us on our non-profit, children's program that is a Farm Program in Corbett just outside Portland, Oregon. We are quite close to the Vista House, Crown Point and even Multnomah Falls. Come see and enjoy our beautiful area!
신분증상의 사진과 대조할 수 있는 본인 사진을 찍어야 합니다. 이를 통해 에어비앤비가 트립에 참가하는 게스트를 확인할 수 있습니다. 이 절차는 한 번만 완료하시면 됩니다.
이 트립은 주류를 포함합니다. 법적 음주 가능 나이에 해당하는 게스트에게만 주류가 제공됩니다.
There is no bus transportation out to Corbett. You will please need to bike out or have a car. When you join us, please wear long pants, work gloves (we can loan them), sturdy and tied-on shoes.
승마
Wine, Dine & Drive A Horse!
새로운 트립