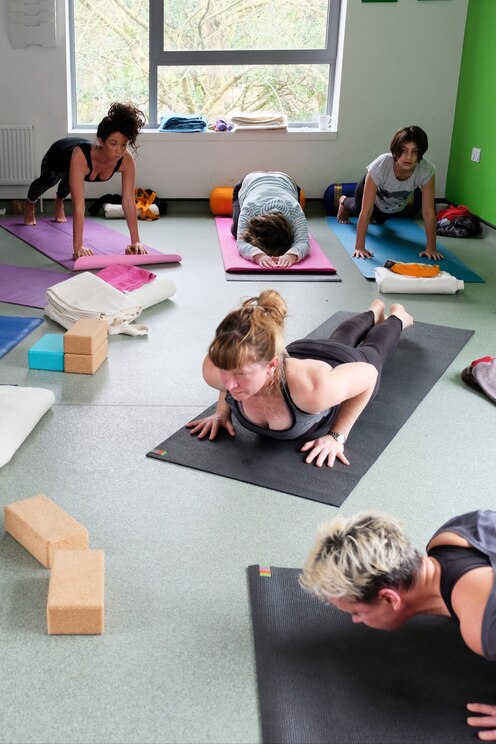 Day Yoga Retreat in Space in Park
Day Yoga Retreat in Space in Park
Arrive between 10-10.30am. This allows time for a herbal tea or a fresh coffee, to settle and turn phones off. We will start with a 2.5 hour Vinyasa Flow Yoga Workshop to begin to warm up and awaken the body. Exploring some deeper asanas once the body is warm. Letting go of worries, taking on too much and being…

Herbal teas and fresh coffee.

Mats, bolsters, blankets, eye bags, blocks and belts are all provided.
Catrin completed her Yin yoga teacher training with Norman Blair in Manchester through Yogacampus. She is also a qualified Vinyasa, Restorative and Yoga Nidra teacher based in London and teaching at Yogahome, The Life Centre, at RADA and with teenagers in schools in Hackney. A former professional aerialist, Catrin's classes incorporate her love of movement and music, yoga philosophy and instinctive teaching style. In her class she aims to take you on a journey which challenges you physically but is also calming mentally and emotionally. Catrin has experience of teaching all abilities & ages
Clissold Park Pavillion - where the day retreat takes is a hidden gem of a space tucked away in the corner of the park. The room fits a maximum of ten participants - so numbers are kept low to maximise teaching time. The room has huge windows which overlook the park, making you feel as though you are outside. The cafe for lunch is friendly and unique - serving delicious home cooking. It overlooks the river & overlooks the rowing club & houseboats
신분증상의 사진과 대조할 수 있는 본인 사진을 찍어야 합니다. 이를 통해 에어비앤비가 트립에 참가하는 게스트를 확인할 수 있습니다. 이 절차는 한 번만 완료하시면 됩니다.
All levels welcome...even beginners.....please feel free to message me if you have questions.
건강한 심신을 위한 클래스
Day Yoga Retreat in Space in Park
새로운 트립