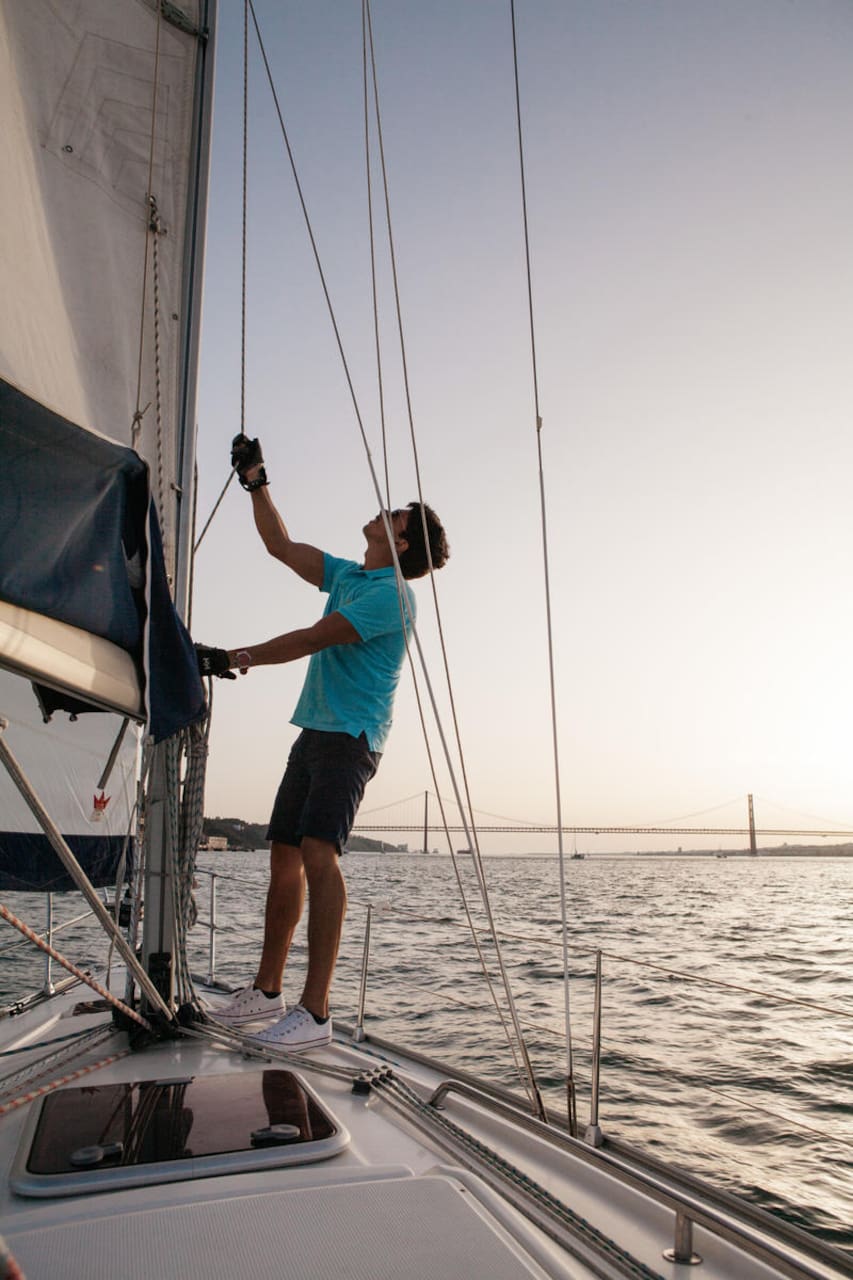 Languages:
언어에 상관없이 즐길 수 있는 트립

인기가 높은 트립입니다. 1,220명 이상의 게스트가 예약했어요.
Most of my free time is spent on the water and in touch with the nature elements. Sailing boats are a passion since I was a kid. I began to sail on small light-sailing boats like Laser, lEquipe, 420, Raquero and later Grand Surprise and others. Currently I'm part of a racing team with whom I participate on national regattas. My goal is to permanently live aboard and sailing the world without any…
We'll cruise along the Lisbon coastline aboard my cozy sailboat, the best spot to watch the sunset. Take advantage of the opportunity to chill out with friends and loved ones, feel the breeze in your hair and admire the natural beauty of the region. You can choose to relax and simply enjoy the ride or to actively participate in the experience by taking the rudder wheel and hoisting and trimming…
On board you'll find a 4k GoPro camera, a waterproof drone with a 4k camera on the gimbal, warm blankets and a Bluetooth speaker (use of these depends on the weather conditions)
간식
Cheese and pork sausage Portuguese cheese and smoked pork sausage
음료
Portuguese wine Portuguese wine and bottled water
장비
Fuel and life vests Life vests, blankets, wind breaker jacket and fuel
wear sporty/comfortable cloths
comfortable shoes with rubber soles (white soles, preferable)
warm cloths and winter/rainproof jacket (if winter)
a warm jacket or, at least, a jumper/soft-shell (if summer)
sunglasses, hat and sunscreen (if summer)
We'll sail on the Tagus River, starting on the modern side of the city (Parque das Nações) and going down until the 25th April Bridge. In between you'll enjoy Lisbon hills and the city downtown Praça do Comércio (Terreiro do Paço), old neighborhoods like Alfama, Cais do Sodré and Alcantara or monuments like Castelo de São Jorge, Cristo Rei, 25 de Abril bridge, Belém Tower or Padrão dos Descobrimentos, all from the river perspective.
향후 예약 가능 일자
원하시는 시간에 예약 가능한 트립이 없다면, 하실 수 있습니다.
8월 23일 금요일  

오후 6:30~오후 8:30.
8자리 중 6자리 남음

인기가 높은 트립입니다. 1,220명 이상의 게스트가 예약했어요.
이 트립은 주류를 포함합니다. 법적 음주 가능 나이에 해당하는 게스트에게만 주류가 제공됩니다.
On board you'll find a 4k GoPro camera, a waterproof drone with a 4k camera on the gimbal, warm blankets and a Bluetooth speaker (use of these depends on the weather conditions)