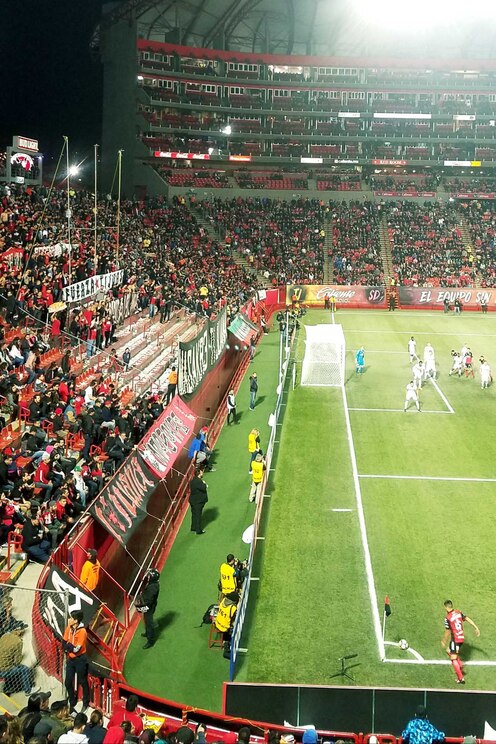 Watch a "Futbol" Match in Tijuana
Watch a "Futbol" Match in Tijuana
Soccer across the border is not just a sporting event to the local Tijuana residents. It's a way of life. A form of art. Join me and a few of my friends as we cross the border to join forces with the 20,000+ fans to cheer on the championship-winning Xoloitzcuintles de Tijuana. Prior to experiencing the true…
포함사항
Transportation, Drinks, Tickets, Food

2 tacos Vegetarian Options Available. Let me know

Some drinks A few fine lagers or crafty ales! Non-alcoholic options if you please...

Entrance to the stadium Seats have epic views!

Taxi/Shuttle To and from the international border crossing. Provided free of charge
Soccer has been engraved in my soul from the beginning. Born to Mexican and Argentine parents, the sport has been a driving force in my life that has led me to over 50 live professional soccer matches across 10 countries. But San Diego is my home and Tijuana is my backyard. Having family on the other side of the border, I've always had a deep-rooted love for Mexico. This passion for "futbol" and fascination with Mexican culture, combined with a thirst to interact with people from around the world, has shaped me to become a border-crossing fanatic of the Xoloitzcuintles de Tijuana.
I speak English and Spanish so rest easy. We'll be cruising around the Chapultepec neighborhood, where the Estadio Caliente (stadium) is located, which becomes a vibrant party scene on game days. Within close walking distance to the stadium, we'll hit up an authentic "taqueria" (tacos) and scope out the nearby Hipódromo (racetrack).
신분증상의 사진과 대조할 수 있는 본인 사진을 찍어야 합니다. 이를 통해 에어비앤비가 트립에 참가하는 게스트를 확인할 수 있습니다. 이 절차는 한 번만 완료하시면 됩니다.
이 트립은 주류를 포함합니다. 법적 음주 가능 나이에 해당하는 게스트에게만 주류가 제공됩니다.
-Bring your Valid (not expired) Passport -Extra cash for optional stadium snacks, team apparel, drinks, etc. -No fancy cameras allowed in stadium -Subject to pat down before entering the stadium.
스포츠 행사
Watch a "Futbol" Match in Tijuana
새로운 트립