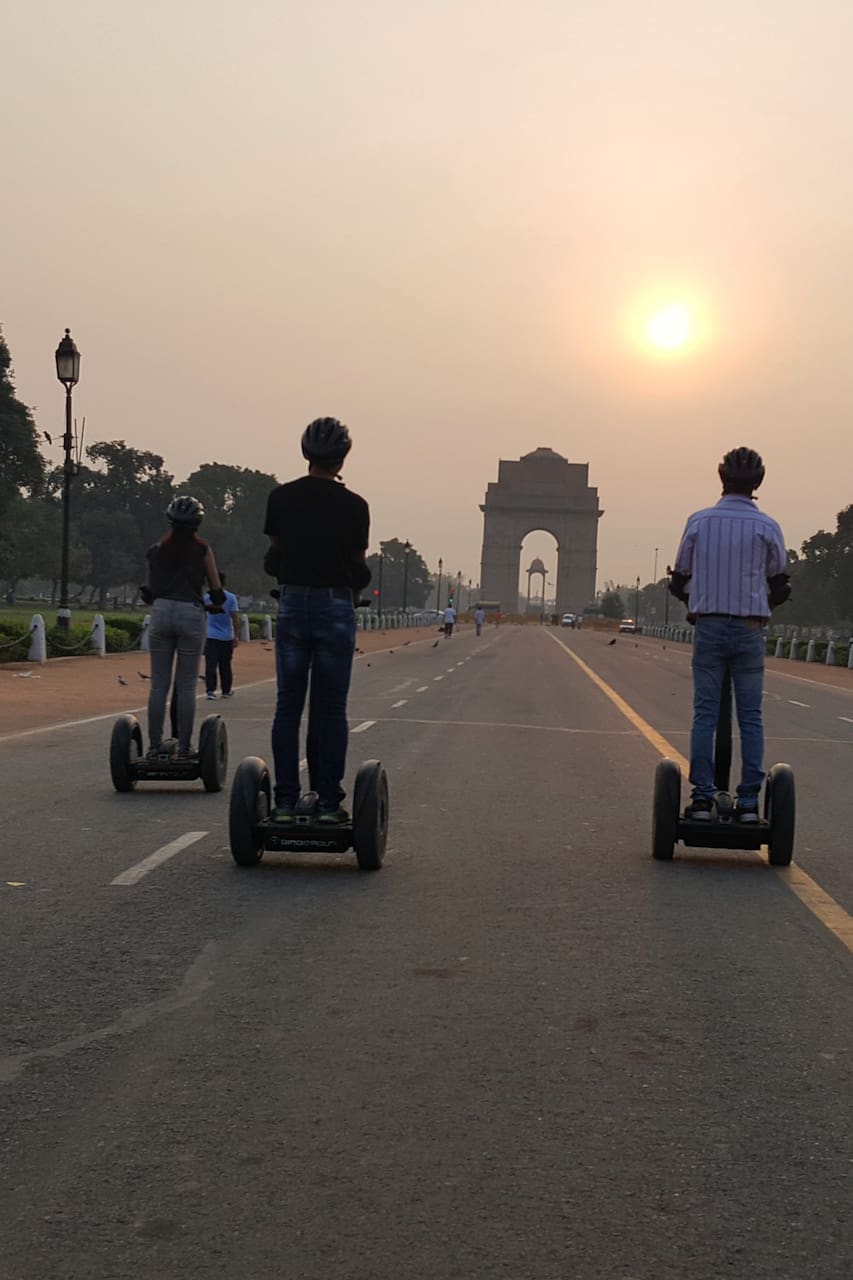 India Gate view on a Segway
India Gate view on a Segway
I love travelling and have an interest in our culture and history, but wanted to see our historical placed in a different way, so got into Segway Tour of Delhi City. I have been into this from last 18 months now, taking our guest on Segway and showing them India Gate, Rajpath, Old Fort, National Art Gallery and many more.... is an experience in itself which i want each our International /…
Tour to offer - Highlights about - India Gate Segway Tour Duration: One Hour, including the orientation session at the start point of the tour Secretariat Rashtrapati Bhawan (subject to permission of security personnel) Parliament House Scenic beauty surrounding the Ministry Buildings on Rajpath Various Government Buildings Amar Jawan Jyoti India Gate Back to the start point at Secretariat where…
Segway is appropriate for those weighing between 30 to 100 Kg. Tourists should have the ability to make motions such as climbing & descending stairs without assistance. Children under 12 Not Permitted
음료
A bottle of Water and Juice at the End of the Tour.
장비
Segway, safety gears like helmet, elbow pads and knee pad which we shall loan you for use during the tour.
Poncho (In case its a rainy season)
India Gate Segway Tour Duration: One Hour, including the orientation session at the start point of the tour Secretariat Rashtrapati Bhawan (subject to permission of security personnel) Parliament House Scenic beauty surrounding the Ministry Buildings on Rajpath Various Government Buildings Amar Jawan Jyoti India Gate Back to the start point at Secretariat where the guided Segway Tour concludes.
신분증상의 사진과 대조할 수 있는 본인 사진을 찍어야 합니다. 이를 통해 에어비앤비가 트립에 참가하는 게스트를 확인할 수 있습니다. 이 절차는 한 번만 완료하시면 됩니다.
Segway is appropriate for those weighing between 30 to 100 Kg. Tourists should have the ability to make motions such as climbing & descending stairs without assistance. Children under 12 Not Permitted
자전거 타기 체험
India Gate view on a Segway
새로운 트립