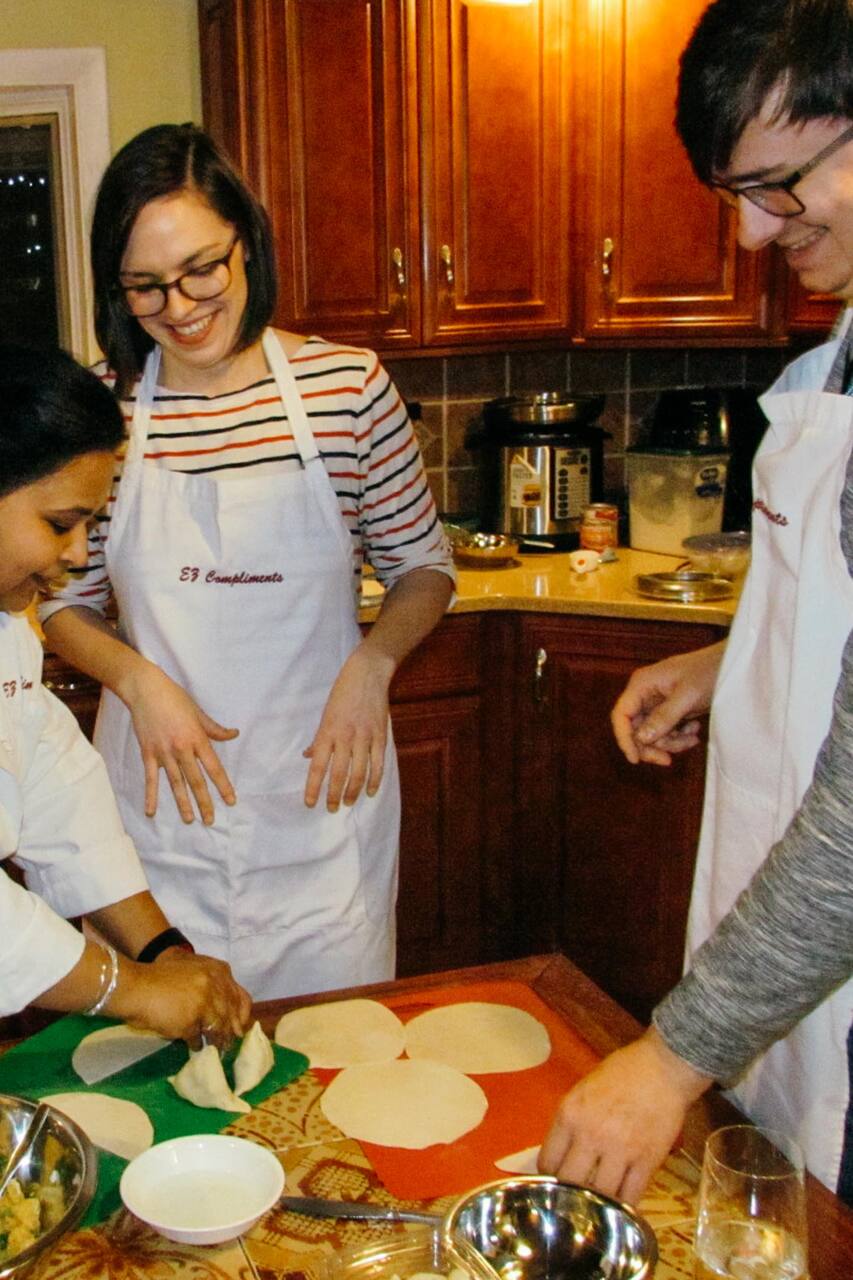 I am Shilpi Ranjan – passionate cook, traveler, educator, wife and mother. Its been a pleasure to inspire people to cook for the last 10 years. While breaking bread together, we get to know people, their culture, and their ideas over a shared meal. I would love to share this joy and community with you in my kitchen. I cook, because I feel blessed to be gifted in the art of cooking and enjoy…
My Indian cooking class is an opportunity for nourishment on so many levels. It is a cooking experience, in which you learn about Indian spices and create customized Indian dishes to your unique taste and spice preference. It is an interactive experience, where I teach small, hands-on groups. It is a social experience, where you can meet new people in a new place and enjoy time with your…
Always open for private classes for couples or groups; email sranjan@comcast.net to inquire and book customized cooking events. Check out details at www.ezcompliments.com
간식 및 기타
Full Indian Dinner. Spice Bags Balanced Indian dinner featuring at least 4 dishes. I provide all of the ingredients and teach guests how to cook the dishes.. Each guest will also take home a sample of spices used in the class, so that they can make the dishes at home.
음료
Feel free to bring your own beverage to enjoy with dinner. :)
장비
Recipes Each guest will go home with a recipe booklet of the dishes that we make during the class.
Bring a beverage of your choice to enjoy with your meal or during the class.
Bring an appetite to learn, cook, eat, and have fun. :)
I invite you to my cozy home. I will begin by introducing you to the spices and the menu of the day on our dining table. Everyone is encouraged to participate in the hands-on and fun cooking class in our kitchen, just like you would cook in yours. Finally, we will sit down to enjoy dinner and share stories of life, as friends breaking bread together.
향후 예약 가능 일자
원하시는 시간에 예약 가능한 트립이 없다면, 하실 수 있습니다.
9월 12일 목요일  

오후 6:00~오후 9:00.
8자리 중 8자리 남음
신분증상의 사진과 대조할 수 있는 본인 사진을 찍어야 합니다. 이를 통해 에어비앤비가 트립에 참가하는 게스트를 확인할 수 있습니다. 이 절차는 한 번만 완료하시면 됩니다.
Always open for private classes for couples or groups; email sranjan@comcast.net to inquire and book customized cooking events. Check out details at www.ezcompliments.com