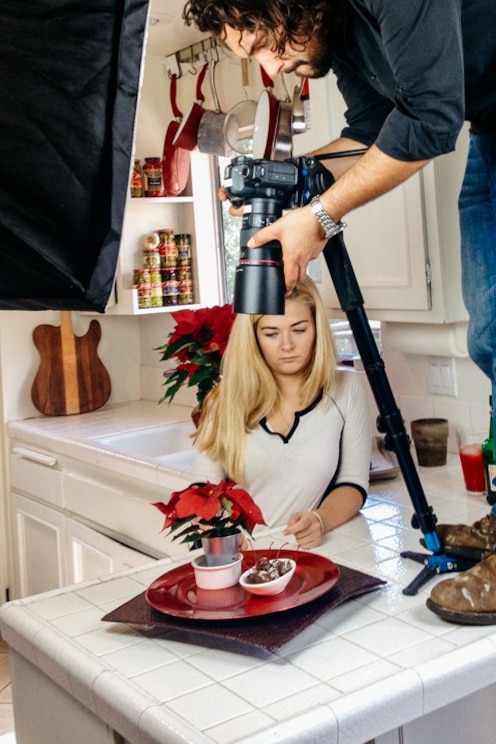 Star in Your Own Youtube Show!
Star in Your Own Youtube Show!
You decide what type of video you want to make -- I make all styles: Recipes, Beauty, Fitness, Travel -- For a recipe: You will be videotaped to create a cooking show in your style. Pair up with your buddy or group, or create your show solo, you decide. Have a ton of fun hamming it up! My team will…

soft drinks and water If you would like to bring wine or alcohol, feel free!
I have a Youtube channel, Rebecca Brand Recipes, with 100,000 subscribers and 30 million views. I've produced 1000 videos, lots of recipes, and have aired many TV shows on many networks including Turner Broadcasting and Adult Swim - Turner's comedy channel. I am a producer, entertainer and believe anyone can do it! My team and I will will help you make a fantastic, high quality video and help you set up a Youtube channel, or help you upload your video on any social media platform- ie Facebook, Instagram, etc.
We film at my home kitchen which is my professional set in Santa Barbara, 5 minutes from downtown, close to Hendry's Beach. If you are doing a Travel Video, or Fitness Video, we will decide together the shooting location. Beauty videos are filmed at my house.
신분증상의 사진과 대조할 수 있는 본인 사진을 찍어야 합니다. 이를 통해 에어비앤비가 트립에 참가하는 게스트를 확인할 수 있습니다. 이 절차는 한 번만 완료하시면 됩니다.
You are welcome to bring wine or alcohol & mixers, I have the glasses and ice. Just come camera ready! There is a bathroom and mirrors for last minute touch ups!
식음료
Star in Your Own Youtube Show!
새로운 트립