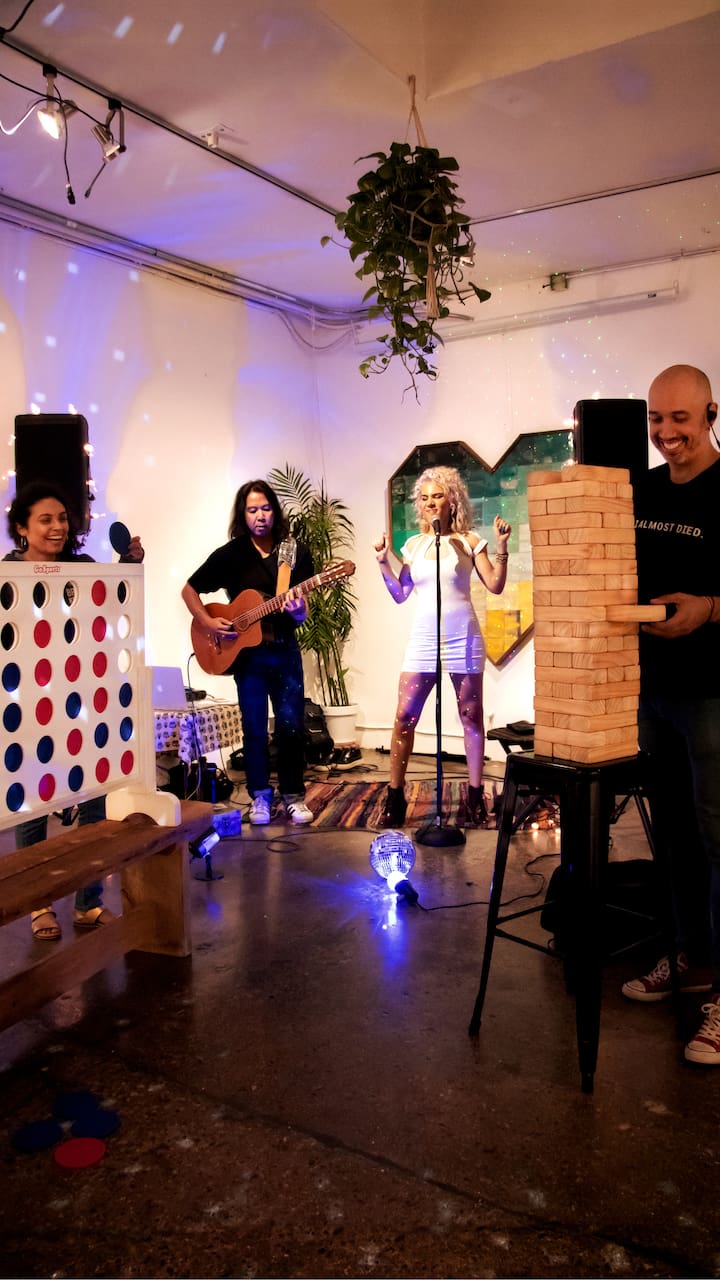 110명이 넘는 게스트가 이 트립에 별점 5점을 주었습니다.
I am a singer/songwriter with roots in R&B, soul and a dash of rock 'n roll. I've been featured in Noisy, Rolling Stone and opened for The Killers' anniversary celebration for their iconic album Sam's Town, for which I was the cover model. Songs I've written have been featured on TV, film, radio and have received over 100 million YouTube views. www.FeliceLaZae.com
Get your game on all night with classic party games like Giant Jenga, Giant Connect Four, and Twister while sipping on FREE drinks & spirits provided by various vendors and listening to acoustic musical sets from LA-based, indie singer/songwriter Felice LaZae and a fellow local musical guest each night. Plus get immersed in the world of local art, jewelry, clothing, and food from different…
Location Dates: 7/6 - Amiga Wild in Venice Food availabe on select dates below: Carnitas Don Cuco Mexican food and Serenity's Cakies (desserts) available for purchase on select dates below: 7/6
음식
Food available for purchase on select dates.
칵테일, 독주 및 기타
Complimentary spirits and more!
장비
Classic party games Giant Jenga, Giant Connect Four, Twister and more
Please note that the location for this event varies.
Food is available for purchase on select dates.
Complimentary drinks are provided!
AMIGA WILD Amiga Wild was established in 2017 by local artists as a hub for creativity and community in Venice. They are a boutique, event, workshop space that highlights local artists, musicians, products and everything in-between embodying the artistic spirit of LA.
이 트립은 주류를 포함합니다. 법적 음주 가능 나이에 해당하는 게스트에게만 주류가 제공됩니다.
Location Dates: 7/6 - Amiga Wild in Venice Food availabe on select dates below: Carnitas Don Cuco Mexican food and Serenity's Cakies (desserts) available for purchase on select dates below: 7/6