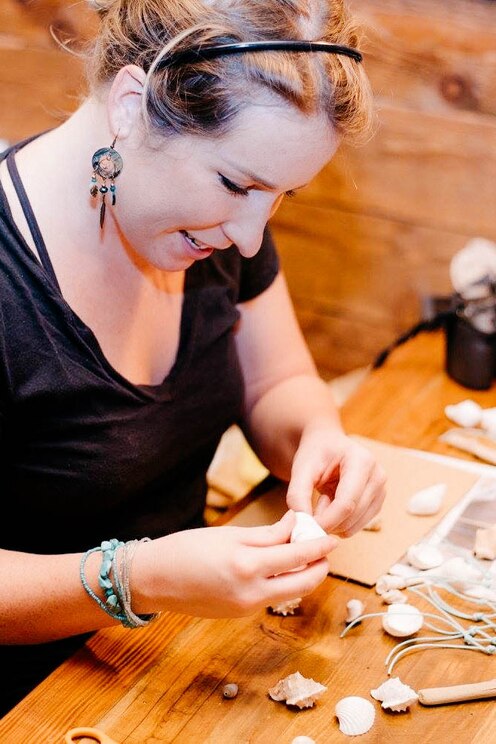 Arts and crafts night at a brewery!
Arts and crafts night at a brewery!
Prepare for a fun night filled with unleashing your creativity while enjoying delicious San Diego craft beer! We will be making a cool seashell and driftwood windchime! You will also learn how to make your own net and pick your favorite shells. I will provide you with the materials, instructions and your first…
I have been in San Diego since 2012 and I love it! I'm a bartender who after working at a couple of breweries grew to love craft beer and became a Cicerone Certified Beer Server which means I know a good deal about beer from how it's made to how to fully enjoy it. Making crafts has been my passion since I can remember, I believe there's nothing like the satisfaction of making something with your own hands. I have been teaching crafting workshops for over a year and I love seeing my students faces when they realize they CAN be creative, they just needed the right outlet, cue craft beer :D
We'll be meeting at Kilowatt Tasting room which is located in the art loving beach town of Ocean Beach. They have a great portfolio of beers you will love! From IPAs to sours, blondes and stouts. Also if you want to explore the town there is plenty of craft beer tasting rooms, stone/jewelry shops and live music shows! Farmers Market every Wed @4pm
신분증상의 사진과 대조할 수 있는 본인 사진을 찍어야 합니다. 이를 통해 에어비앤비가 트립에 참가하는 게스트를 확인할 수 있습니다. 이 절차는 한 번만 완료하시면 됩니다.
이 트립은 주류를 포함합니다. 법적 음주 가능 나이에 해당하는 게스트에게만 주류가 제공됩니다.
Bring your thirst, your eagerness to create and your will to have fun! Your ticket includes your first beer. Bring cash or card to purchase more beers or food at the brewery.
워크숍
Arts and crafts night at a brewery!