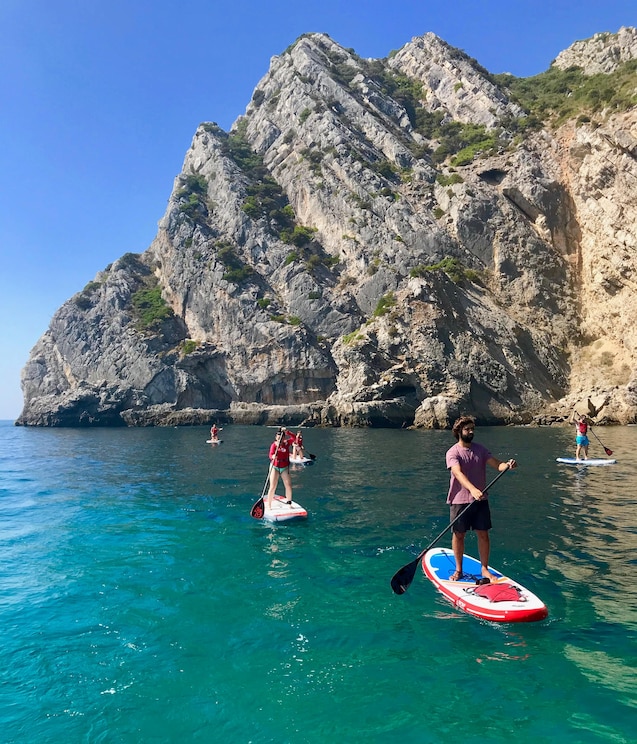 아라비다에서 즐기는 보트 타기 + 스탠드업 패들보딩 사파리 투어
아라비다에서 즐기는 보트 타기 + 스탠드업 패들보딩 사파리 투어
Let's start our adventure by meeting at Time Out Market (Mercado da Ribeira), in Cais do Sodré by the Tagus river. From there we will drive to the village of Sesimbra located 30km south of Lisbon in the heart of Arábida Natural Park. You will find it guarded by the Sesimbra castle dating from the year 711 and…
실시간 인기 트립 예약이 마감되기 전에 서두르세요!
포함사항
Equipment, Transportation, Drinks, Food

Light meal Vegetarian food available on request. Fresh fruit, local sweets are a must.

Water and juices Water and fresh juices during our time on the experience.

Boat Tour Boat tour starting in Sesimbra along the beautiful coast line

Stand Up Paddle Board Lifevest Photos and Videos of the day Snorkeling masks Wetsuits
Who am I? Well, I and my families are watermen and outdoor people that founded Meira Pro Center in 1981 as a windsurfing school and that now became a family business with all of us working together and sharing our passion for the ocean with others. We are athletes and free-riders dedicated to all ocean sports. Join us for a truly local experience in the ocean surrounded my years and years of dedication to the ocean and this region. My brother Pedro and Afonso (https://www.airbnb.pt/users/show/140804213) are my co-host for the tour and just like me, they spend most of the time in the ocean. We also host a Kayak Experience - https://www.airbnb.pt/experiences/122920 - so if you are not sure yet about what to do we can help you or your group having a great day!
The area of Sesimbra presents you with the highest limestone cliffs in Europe, amazing rock formations that exist for 18M years and make it for small paradise beaches located along its shores. Prepare yourself to see the amazing contrast or green and blue only found in this region. This is the Atlantic ocean but because you are facing south it's always protected from the big ocean swells.
예약 가능 여부
원하시는 시간에 예약 가능한 트립이 없다면, 하실 수 있습니다.
8월 26일 월요일  

오전 8:00~오후 3:00.
6자리 중 2자리 남음
실시간 인기 트립 예약이 마감되기 전에 서두르세요!
We will drive from Lisbon to Sesimbra where the experience takes place and duration of 7 hours includes from meeting at Time Out Market until you are back in Lisbon. This experience is suitable for anyone without previous experience on a Stand Up Paddle board.
패들보딩
아라비다에서 즐기는 보트 타기 + 스탠드업 패들보딩 사파리 투어